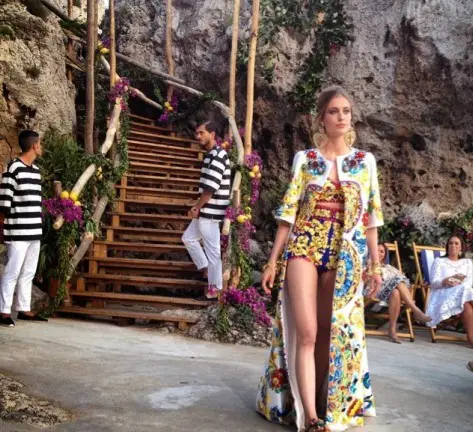 Italian luxury fashion house of Dolce & Gabbana hosted a spectacular event to present and showcase its Fall Winter 2014-15 Alta Moda ('Italian Couture') on the island of Capri.
Models arrived by boat from Sorrento to the beach which played as the stage for the Dolce&Gabbana Alta Moda Fall Winter 2014-15 collection. Swide collated the best images from Instagram of the event.
The event was held on the Fontelina beach, a private terrace overlooking the sea and the picturesque Faraglioni. Stunning gowns with Sicilian inspired prints, sumptuous furs and crystal embellished ensembles painted a unique picture where fashion forward statements and old world style merged seamlessly.