Thermal baths, relaxation and delightful food surrounded by a stunning view
Dear Italia Living readers, I want to express to you my surprise during my last trip in Tuscany. I discovered a fascinating little hamlet which is not often mentioned in travel guides, and almost unheard-of by Italians. In my opinion it's one of the most striking Tuscan villages; recommended to lovers of history, those seeking rest, and in search of uncommon places. I'm sure, we can really call it the hamlet of Bagno Vignoni – a secret in the heart of Tuscany.
It's incredible how Italy continues to surprise me day by day, and always in a different way.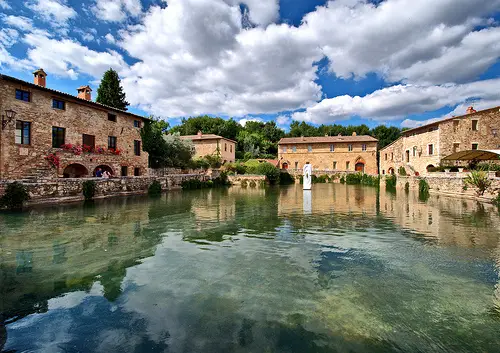 Bagno Vignoni is located in Val D'Orcia area, and is considered a volcanic origin terme with characteristic architectural structures. As a matter of fact, it's arranged around a large basin of water which forms part of an antique thermal bath complex. Instead of the normal piazza or square, this basin provides an unusual kind of watery mirror as the central focus of the urban fabric. The figurative effect of this ancient basin, which at the same time frames a square, called Piazza delle Sorgenti, is so deep that it's not difficult to understand the peculiarity of so much beauty.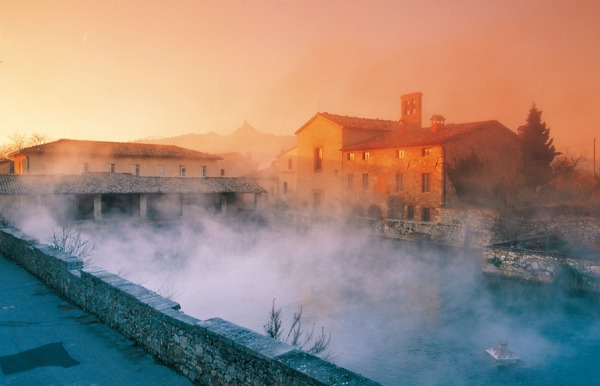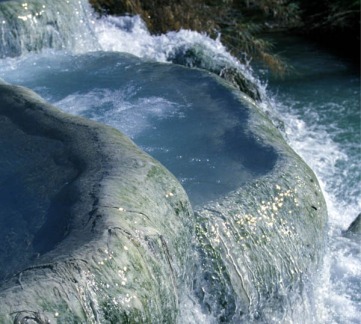 In addition, the rest of the village stretches away from this centre and includes several elements of the old Etruscan thermal complex. The waters of the central pool flow down to the old thermal complex via a grated channel, and then feed into a series of mills which are positioned on the steep slope running down to the river Orcia below.
The hyperthermic waters of Bagno Vignoni emerge from the ground at a temperature of 51/52 degrees centigrade, and are primarily used for wellness baths and mud treatments.
Nature lovers making their way back down the narrow road that leads up into Bagno Vignoni, will find a track that takes them down to the bottom of the hill in the direction of the river Orcia, to reach a rectangular pool fed by the thermal waters. There are no public amenities here and the confined space is not appropriate for a large number of people, but the basin of water is large and clean, and the area is generally not crowded with tourists.
Those who make the effort to get down there will find it a lovely place to relax in peace, and to enjoy the view of the powerful Rocca of Tentennano in Castiglione D'Orcia.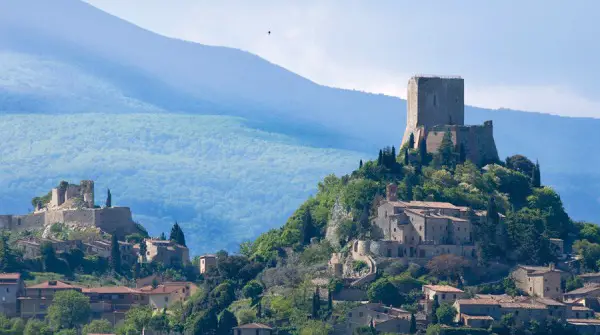 After enjoying the beautiful scenery from the thermal baths of Bagno Vignoni, I suggest you go (you can arrive by car in 5 min) and to see the panorama of vineyards and hills from the other side, from the summit of the Tower. It's awesome, because the temperature due to the height create a breeze, being the ideal place for a glass of Vino Doc D'Orcia surrounded by the awesome view. If you feel hungry I suggest to stop in a typical restaurant at the foot of the tower: the dish that I suggest to try is Pici, a thick, hand-rolled pasta, like a fat spaghetti and with the typical sauce on it. The most common are Pici with Briciole (breadcrumbs), Pici all'aglione (spicy garlic tomato sauce) Pici with Lepre (hare sauce), and with cinghiale (wild boar sauce). My favorite are Pici with Briciole sauce, you should try…delicious!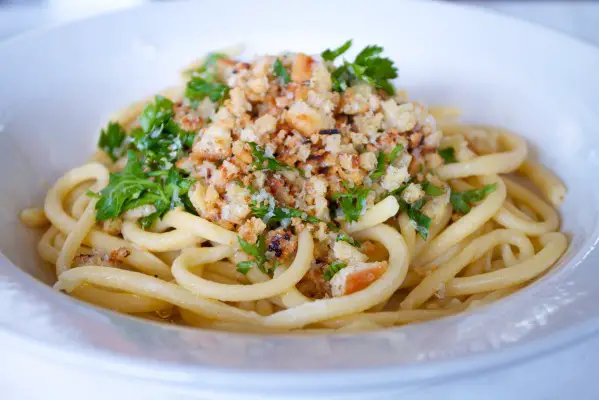 Several archeological evidences show that Bagno Vignoni and its surroundings were known and visited by Etruscans, Romans and such, as a resting destination for pilgrims which passed the Via Francigena (an ancient road and pilgrim route running from France to Rome) to go to Monte Amiata.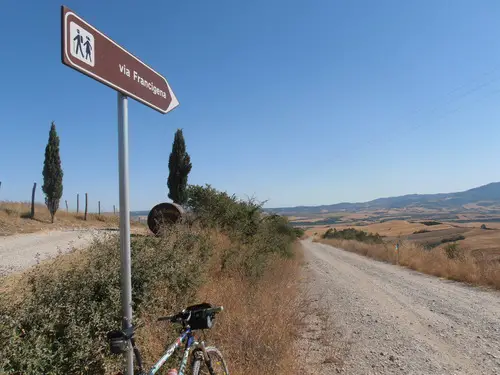 Monte Amiata is very close to Bagno Vignoni, and I really recommend to go to visit it during your trip in Val D'orcia. And maybe…why not…I'll write something about it in one of my next articles.
---
Every Italian place hides a secret ready to be discovered – and Eleonora shares some of those here on Italia Living.