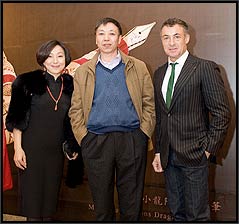 On 11th, January 2011, Montegrappa, the first and greatest Italian manufacturer of writing instruments, along with its Chinese distributor ALLE, launched its new Montegrappa Icons Dragon Bruce Lee pen in the LPL Home Lifestyle Gallery, Shanghai. ALLE, the distributor of luxurious writing instruments and gifts from around the world, has always shown deep commitment to elevating the Chinese attitude toward elegant, finely-craft pens.
Two anniversaries inspired this special edition pen, born in 2010: it honours both the 70th anniversary of Bruce Lee's birth, while also marking 15 years since the 1995 release of Montegrappa's Dragon pen. One of Montegrappa's most acclaimed creations, the Dragon pen is now highly sought-after by collectors. The new edition, readily distinguishable from its predecessor, makes the Dragon available to a new generation of enthusiasts.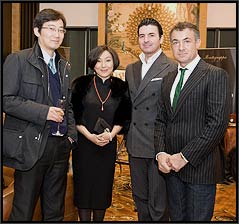 On the day, Mr. Giuseppe Aquila, CEO of Elmo & Montegrappa S.p.A., and board member, Ferrari F1 driver Jean Alesi joined with Chairman of ALLE Ms. Yang Xiaoqian to unveil the Montegrappa Icons Dragon Bruce Lee in the presence of more than 100 of ALLE's VIP clients and the media. Mr. Ge Yisheng, a famous collector who owns nearly all the limited editions of world class writing instruments, attended the event. Mr. Lu Xiao, a famous scholar of luxury objects was also present.
Conveying a sense of the century-long history of which the Icons Dragon Bruce Lee pen is now a part, was a display of many other Montegrappa Limited Editions. These works of art perfectly exemplified the hallmarks of the brand: tasteful design and superb craftsmanship. A video of the event was first shown on TV program "X FILES" of Channel Young Media Co., Ltd. at 10: 50am on 15th January 2011.
Since 1912, Montegrappa has been manufacturing high-quality writing instruments in the same historic building in Bassano del Grappa, North East Italy.
---
Visit their website at: www.montegrappa.com
Montegrappa pens are available through their worldwide network of authorized dealers and can be reached at contact@montegrappa.com for information.