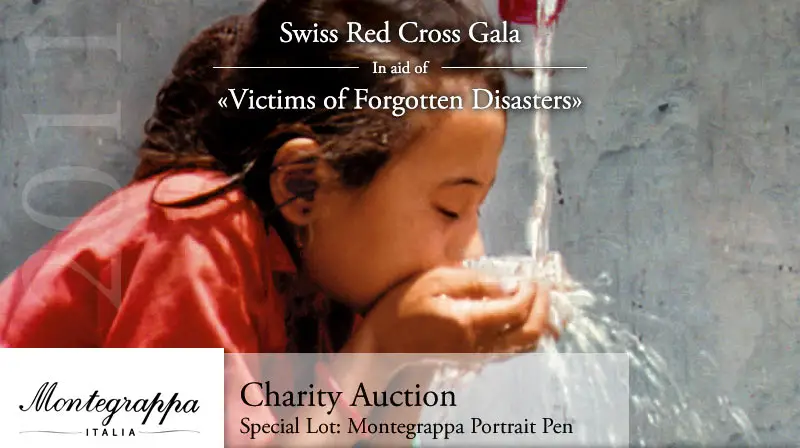 Montegrappa is proud to be partner of the Swiss Red Cross Gala in Zurich, Switzerland, to take place on 3 September 2011. In respect of this, we are honoured to present to you a very special opportunity to bid for a personalised Montegrappa Portrait Pen. At this extraordinary event, an exclusive Portrait Pen will be auctioned by Mr. Andreas Rumbler, CEO of Christie's in Germany, to raise money for the Swiss Red Cross and their program, "In Aid of Victims of Forgotten Disasters." 
Water is the source of life, health and development, and is fittingly the theme of the Swiss Red Cross Gala 2011. For millions of people across the planet, water is unfortunately still a luxury. By attending this unique event, you can help to support the activities of the Swiss Red Cross (SRC) in this crucial area.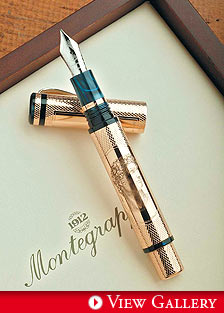 The Montegrappa Portrait Pen is a precious, rare object made for the fortunate few who love to surround themselves with beautiful, exclusive, highly personalised things. The pen in fashioned in rose gold, which the client may have engraved with whatever he or she would most desire: the portrait of a loved one, the secret symbol of an engagement, or any subject which has special significance for only one person – or two.
For Montegrappa, the Portrait Pen is a project that is faithful to our history and values: Montegrappa is the first Italian pen manufacture, whose writing instruments are appreciated and sought after throughout the world by collectors and lovers of beautiful objects. They are valued for the originality of their design, the unmistakable imprint of Italian elegance in their appearance and the superior quality of their craftsmanship, which makes use of exclusive techniques inherited from the goldsmiths' tradition, transformed by the inspiration of innovation. 
The engraving that will grace the Portrait Pen is an authentic work of art, carried out using the traditional manual technique of burin engraving by a steady, expert hand, directly on the surface of the pen. Thus, every example of the pen is unique and different. It is the portrait of an individual passion and it has the same personality as the person who carries it. It is Montegrappa's exclusive writing jewel. 
For those interested in the this unique opportunity, clicking on the link below will enable you to download the presentation leaflet of the Portrait Pen's special auction lot, an absentee bidding form and additional information about the Gala, including ticket reservations. 
For further information from the Swiss Red Cross, Ms. Lucy Schweingruber can be contacted at:
lucy.schweingruber@redcross.ch
+41(0)31 387 72 38 
---
ELMO & MONTEGRAPPA S.p.A.
Via Ca' Erizzo 43/45
36061 Bassano del Grappa (VI) – ITALY
Phone: +39 0424 522232
Fax:    +39 0424 523975
contact@montegrappa.com
www.montegrappa.com