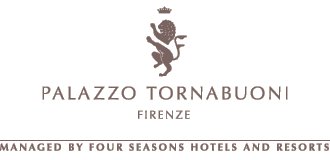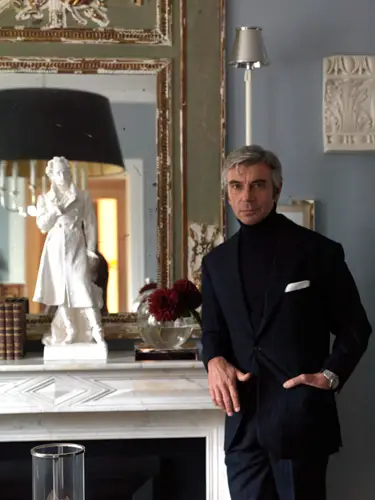 FLORENCE, ITALY  – Palazzo Tornabuoni commissioned Tuscan-born interior designer Michele Bonan to furnish the Club's common areas and 38 residences in a style that balances contemporary flair with timeless elegance. His work on such prestigious projects as the Ferragamo family's Lungarno hotels in Florence and Rome, Casa Tua hotel and restaurant in Miami and JK Place hotels in Florence and Capri, not to mention a brace of domestic interiors from Chicago to Monte Carlo, has brought Bonan international acclaim.
Underpinning Bonan's design philosophy is the conviction that "designing means creating an ideal environment in which the owner feels that they belong, not that they are just visiting." Nowhere is this more evident than in his work for Palazzo Tornabuoni, which taps into the refined, cultured spirit of former owners like sixteenth-century art patron and composer Jacopo Corsi – but also exudes warmth and charm. It's like entering the house of a stylish but unpretentious art collector with a talent for understatement.
Bonan's interiors fuse past and present seamlessly:
–   Baroque statues, eighteenth-century mosaics and Mannerist frescoes sit alongside contemporary paintings and Bang & Olufsen entertainment systems;
–   Vintage designer tables blend in with finely crafted contemporary-classic sofas and armchairs by Chelini, upholstered in rich cream fabric;
–   Overhead, chandeliers painstakingly assembled by Italian artisan Gherardo degli Albizzi from bevel-cut glass lend a touch of opulence.
For Bonan, as for the painters of the Tuscan Renaissance, light is central to the final effect. The designer began his work by visiting the Palazzo at regular intervals through the year, observing rooms at different times of day and in different weather conditions. Only then did he choose paint colours – which were tested in situ before being applied – and upholstery fabrics.
Bonan also gave considerable thought to the Palazzo's ambient lighting. One of his intuitions was to leave the frescoes in the Papal Suite deliberately unlit, just as they would have been in the seventeenth century.  Discretion was the keyword; now as is in the past, Palazzo Tornabuoni is a home, not a museum.
Though Bonan has worked all over the world, as a Florentine he brings a special, local sensibility to his work on the Palazzo. He worked with Tuscan artisans, using mostly Tuscan materials, from Carrara marble to the cypress wood used in drawers and cabinets.
Some rooms retain their original decorative terrazzo floors, while others have been laid in warm, durable oak by Giulio Tanini. Bathrooms, lined in gold-veined Calacatta marble, feature retro Victorian-style fittings and bathtubs by Devon & Devon. In the kitchens, sleekly minimalist but decidedly hi-tech Boffi units made to measure by designer Piero Lissoni play off against elaborate stuccoed ceilings and ruched curtains in cotton linen damask.
Palazzo Tornabuoni is a debut for Michele Bonan in Private Club Residences design.  "The Palazzo has had many illustrious owners over the centuries" Bonan explains. "We are very fortunate that it retains so much of the original decorative elements from the last five centuries. Our goal is to weave these elements into a tapestry of style, grace, and above all, comfort."
---
Visit the Palazzo Tornabuoni website for more information.
Article content and photos supplied by Palazzo Tornabuoni, a sponsor of Italia Living.