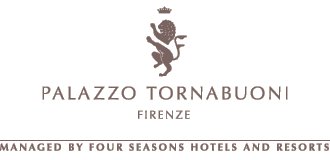 Concept
An international Residence Club has opened January 1st,2009 in Florence.  Palazzo Tornabuoni, housed in a magnificent 15th century palace, occupies an entire city block on Florence's most fashionable street, Via Tornabuoni.  Through the grand arched entrances of the imposing Michelozzo façade, one steps into an oasis of terraced gardens, courtyards, towers and private residences – unimaginable to passers by.  This private world – that includes a club lounge, indoor and outdoor dining, spa,  fitness room, wine bar, cigar room and 38 private residences-20 on a Club membership basis and up to 18 as individual ownesrship- lives just above an elegant collection of boutiques (Bulgari, Bottega Veneta, Cartier, Max Mara, Stefano Ricci) and restaurants on the ground level.  The two restaurants are the renowned Italian bar and bistro "Obikà" and the easy Classic, but chic, "Osteria Tornabuoni" which surround the elegant Michelozzo designed courtyard.
Partners
Palazzo Tornabuoni is a joint venture between RDM Fingen Group in Florence and J. Byrne Murphy of Kitebrook Partners, Washington DC.
Club Management
The exquisite and internationally renowned Four Seasons Hotels and Resorts will manage the daily operations of the club.  In addition, to ensure that members may live like a native Florentine, an entirely new service – the Palace Attache – has been created to bring the private world of Florence immediately to the fingertips of every club member.
Location
Next to the geographical center of Florence, on the corner of via Tornabuoni and via Strozzi, across from Palazzo Strozzi and just minutes from the Duomo, Palazzo Pitti and Boboli Gardens, the Ponte Vecchio and some of the world's best museums, art collections and finest designer boutiques.
History
The Tornabuoni rose to prominence under Cosimo de' Medici, and soon married into Tuscany's ruling dynasty. Lucrezia Tornabuoni, a gifted poet, was the wife of Piero de' Medici and mother of the original Renaissance man, Lorenzo the Magnificent. Midway through the fifteenth century, the family commissioned leading architect Michelozzo to unify the properties they owned in via Tornabuoni – then as now one of the city's most prestigious, upscale addresses ­– into a single, imposing edifice. Palazzo Tornabuoni passed into Medici hands in 1574 when it was acquired by Alessandro Ottaviano de' Medici, who would later be known as the 'lightning Pope' – he died just 26 days after being elected Leo XI.
By the 1590s, Palazzo Tornabuoni had become the home of marchese Jacopo Corsi, a patron of the arts with a passionate interest in music. It was here, in 1598, that the first performance of what is widely considered to be the world's first opera took place, when Dafne, composed by Jacopo Peri with contributions from Corsi himself, was staged in the Salone delle Muse. The Corsi-Salviati family owned the Palazzo for over three centuries, embellishing it with statues, frescoes and decorative stucco-work, but escalating costs force them to sell in 1894, and in 1901 Palazzo Tornabuoni was acquired by a bank, which set about converting it into offices.
It took a four-year restoration effort,between 2004 and 2008, to return the fabric of the Palazzo to its original splendour.
Interiors
Palazzo Tornabuoni commissioned Tuscan-born interior designer Michele Bonan to furnish the Club's common areas and 38 apartments in a way that balances contemporary flair with timeless style. His work on such prestigious projects as the Lungarno Hotels Group in Florence and Rome, "Casa Tua" hotel and restaurant in Miami and "JK Place" hotels in Florence and Capri, not to mention a brace of domestic interiors from Chicago to Monte Carlo, has brought Bonan international acclaim.
Underpinning Bonan's design philosophy is the conviction that "designing means creating an ideal environment in which the owner feels that they belong, not that they are just visiting." Nowhere is this more evident than in his work for Palazzo Tornabuoni, which taps into the refined, cultured spirit of former owners like sixteenth-century art patron and composer Jacopo Corsi – but also exudes warmth and charm. It's like stepping into the house of a hip, refined art collector with a talent for understatement.
Bonan's interiors fuse past and present; Baroque statues, eighteenth-century mosaics and Mannerist frescoes sit alongside contemporary paintings, discreet lighting and air-conditioning panels and flatscreen TVs. Vintage designer tables blend in with finely crafted contemporary-classic sofas and armchairs by Chelini, upholstered in rich cream fabric, while overhead, chandeliers painstakingly assembled by Italian artisan Gherardo degli Albizzi from bevel-cut glass lend a touch of opulence.
Some rooms retain their original decorative terrazzo floors, while others have been laid in warm, durable oak by Giulio Tanini. Bathrooms, lined in gold-veined Calacatta marble, feature retro Victorian-style fittings and bathtubs by Devon & Devon. In the kitchens, sleekly minimalist but decidely hi-tech Boffi units made to measure by designer Piero Lissoni play off against elaborate stuccoed ceilings and ruched curtains in cotton linen damask.
Amenities
Magnificent indoor and outdoor communal living areas, a salon, indoor and outdoor dining areas, a wine bar, cigar room with provate humidors, sauna,steam room, fitness facilities and access to the pool, spa and gymnasium at the Four Seasons Hotel Florence.
Club Residences
There are 38 elegant and individually designed residences within the Club – no two are the same. Each one has its own character and feel, taking advantage of the unique variety of architectural details.  Apartments on the top floors offer views of the surrounding hills, cupolas and bell towers of the city, apartments on the piano nobile offer and array of frescoed and stuccoed ceilings. But all residences is fully equipped with state of the art entertainment systems and internet access.
Membership Fees
The Membership fees, are as follows, to date (February 2010).
Available today,:
3 – Studios (85m² approximately) – € 245,000 each
7 –  One bedroom apartments (115 m² approximately) – €364,000 each
10 – Two/three bedroom apartments (210 m² approximately)- €575,000 each
Membership will allow up to 8 members per residence. Using a reservation system which has been in successful use for over 15 years, all members are assured of fair access for themselves, their friends as well as business associates. Pricing will vary depending upon the residence.
Services
Full club management,Concierge service, daily housekeeping, pre-arrival grocery shopping, in-house sommelier, private airport transfers.
Club operation costs are covered by annual Club fees,priced according to the category of membership bought. These range from €8,200 for a studio residence, to €13,200 for a one bedroom residence and €21,100 for a two or three bedroom residence
Housekeeping charges are charged per occupancy and paid on departure; they include full daily cleaning. Sample costs for a one week stay are €215 for a studio residence, €290 for a one bedroom residence and €500 for a two to three bedroom residence.
Tornabuoni's "Club Attaché" teams up with Four Seasons Concierge
Tornabuoni's Attaché service has been created to help members feel at home in the city, putting the private world of Florence and Tuscany at members' fingertips.  Private introductions, wine-tasting tours; entry to private wine estates, palaces and villas; private chefs; preferential access to private art collections, galleries and museums; private tours with palace 'friends' –(professors or experts, not necessarily guides), will all serve to help members of the club experience the private life of Florence as a resident in their home away from home.  In addition, special lecture series, country weekend outings –riding through private estates, hunting wild boar ; invitations to previews of art and fashion collections will ensure that members are experiencing the best of the region.  Collaborating with the impeccable Four Seasons concierge who will be available 24 hours a day and manage the daily lives of members — providing recommendations and bookings whether it be for restaurants, theatre, tennis, golf and riding or childcare, cooking classes, airport transfers, pre-arrival grocery shopping and valet parking.
Membership
Membership will be no more than 160 for the 20 residences in the Club.  Memberships are divided by category (see above). The club year runs from April 1 to March 31st, with the first round of reservations accepted in November for the following year. Members have unlimited, flexible usage and may, subject to the Club's reservation policy and availability, stay as often as they wish.A Rotating Priority System® provides fair access to all Members during high-demand periods over the years.  Membership of Palazzo Tornabuoni is assignable, transferable and willable.  Should a Member choose to transfer their Membership at some future date, any appreciation shall accrue to that Member. What makes Membership in Palazzo Tornabuoni special is that the Club is the owner of the residences and common areas, including the art contained in each residence of the Club. Members own a transferable,willable proprietary interest in the Club.
Background information
R.D.M.-Fingen Group
R.D.M. is the pioneer and leading developer of Historic Residence Clubs in Europe, is the real estate division of Fingen S.p.A., which is owned by Corrado and Marcello Fratini.  Fingen has a long tradition building international partnerships with brands including Four Seasons, McArthur Glen, Calvin Klein, Jean Paul Gautier and Guess.  Founded in 1979, the Fingen Group ranks as one of the foremost companies in Tuscany with 1,600 employees worldwide.  Dott. Jacopo Mazzei, CEO and a partner of RDM, comes from of one of the oldest Florentine families and, along with the Fratini brothers, is the visionary and driving force behind the multi-million euro restoration and redevelopment of the historical landmarks, Palazzo Tornabuoni and Palazzo della Gherardesca, now the home of Four Seasons Hotel Firenze.  The Mazzei family, which dates back to the 11th century, is synonymous with the finest wines, produced in the heart of Chianti as well as in the Maremma region in Tuscany and Sicily.
Kitebrook Partners
Headquartered in Washington, D.C., Kitebrook Partners is headed by J. Byrne Murphy, one of the founding principals of McArthurGlen Europe, where he formed a Joint Venture with Fingen for McArthurGlen Italia.  Kitebrook has more than twenty years of experience in real estate development projects in the United States and in Europe.
Four Seasons Hotels & Resorts
Four Seasons is dedicated to perfecting the travel experience through continuous innovation and the highest standards of hospitality.From elegant surroundings of the finest quality, to caring, highly personalised 24-hour service, Four Seasons embodies a true home away from home for those who know and appreciate the best.  The deeply instilled Four Seasons culture is personified in its employees – people who share a single focus and are inspired to offer great service. Founded in 1960, Four Seasons has followed a targeted course of expansion, opening hotels in major city centres and desirable resort destinations around the world. Currently with 78 hotels in 31 countries, and more than 25 properties under development, Four Seasons will continue to lead the hospitality industry with innovative enhancements, making business travel easier and leisure travel more rewarding.  For more information on Four Seasons, visit www.fourseasons.com.
Agreement between Palazzo Tornabuoni and Four Seasons
Palazzo Tornabuoni is not owned, developed or sold by Four Seasons Hotels Limited or its affiliates. Tornabuoni S.R.L. uses the Four Seasons trademarks and tradenames under a license from Four Seasons Hotels and Resorts B.V. The marks "FOUR SEASONS," "FOUR SEASONS HOTELS AND RESORTS," any combination thereof are registered trademarks of Four Seasons Hotels Limited in Canada and U.S.A. and of Four Seasons Hotels (Barbados) Ltd. elsewhere.
---
Visit the Palazzo Tornabuoni website for more information.
Article content and photos supplied by Palazzo Tornabuoni, a sponsor of Italia Living.