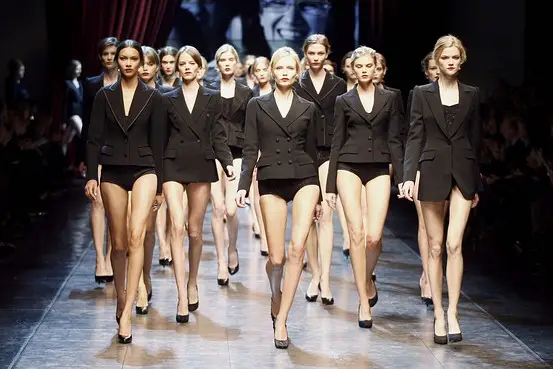 From this powerful fashion capital, Milan Fashion Week 2010 has made it clear that the Italian designers are ready to move forward by going back in time – showcasing a perfectly presented blend of timeless elegance and saucy touches. Their 50th Dolce & Gabbana collection was a romantic and poetic salute to their heritage of clothes for the sensual woman, both dressed and undressed.
Dolce & Gabbana dramatically broke from the lascivious excesses which have been dominant at Milan fashion week in recent years and returned to the world renowned principles of Italian style: perfect tailoring and sophistication with a nuanced appreciation of sex and sensuality. The collection called 'Sartorialita, Sicilianita, Sensualita', for autumn/winter 2010, revisited the brand's signatures of tailoring, corsetry, the age-old black garb of the Sicilian woman updated in knits and lots of lingerie and satin dresses. "The collection is a return to our roots: Sicilian heritage, sensuality and sartorial clothing," said Stefano Gabbana.
To broadcast their back-to-basics message, Dolce & Gabbana harnessed modern technology, posting a behind-the-scenes video on YouTube before the show in which the designers whittled their look into three simple words: Sicily, Tailoring, Black. Backstage preparations and the show itself were live-streamed on to the brand's website and to iPhones.
As the the Dolce & Gabbana Fall/Winter 2010-2011 women's catwalk in Milan began – the cinema-sized stage screen cut to a shot of the house seamstresses in white coats, spectacles and tape measures strung around their necks, while Designers Domenico Dolce and Stefano Gabbana worked their creative magic on the catwalk pieces that will soon wow the audience.
Dolce & Gabbana Winter 2011 Women's Collection – Part 1
Dolce & Gabbana Winter 2011 Women's Collection – Part 2
The show closed the same way it started – with a video. But instead of showing the designers at work, the bow belonged to the thirty-something tailors who work in Dolce & Gabbana's Milan atelier. The audience of 1000 broke into satisfying applause.
---