The Italian brands successful store in Japan given an entirely new look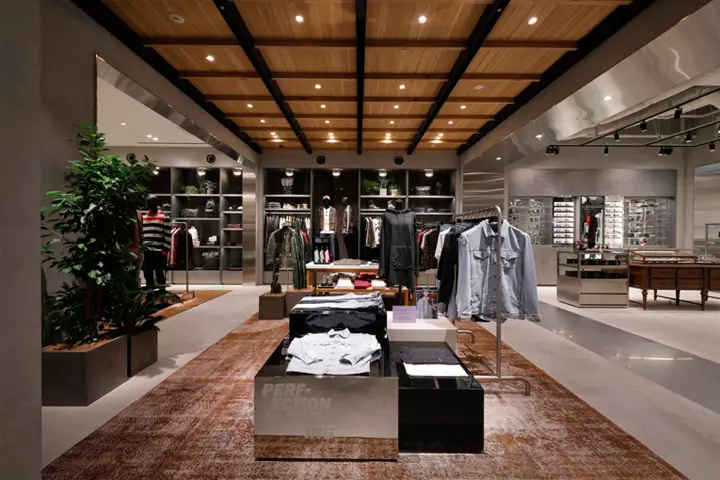 The Diesel Ginza store, initially opened in 2008, has been one of the Italian brand's most important retail showcases in Japan, offering its full product range.
Set across three floors at Ginza Glasse, a 12-storey shopping mall in Tokyo's upscale Ginza shopping district, the store has recently been given an entirely new look, created by Diesel's very own design team.
The ground floor is marked by a large, gate-shaped led screen monitor that looks inserted into the retail space furnished with both contemporary elements and rustic-inspired props, such as steel fixtures paired with rugs, concrete flooring with wooden ceilings, and antique furniture, creating an atmosphere that's both homey and modern.
The ground floor and second floor present the full range of men's and women's collections of denim, apparel, bags, shoes, and accessories. Up on the third floor, shoppers will find dedicated areas for the Diesel Black Gold collection and Diesel Living collection. The setting in the latter two spaces is adapted to the merchandise, featuring a clean and minimalist aesthetic with industrial furnishings and concrete flooring, and one with wallpapered walls, a boombox-clad backdrop and wooden planking respectively. Additionally, exclusive pieces such as leather jackets and denim are lined up here at Diesel Ginza.