A small package with big potential and big style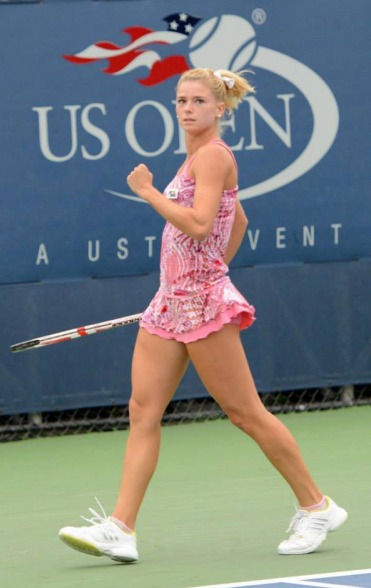 Camila Giorgi came into the 2013 US Open as the 26th seed in the qualifying tournament, where 128 players were competing just to get into the main draw. After five matches on the outer courts, the 21-year-old Italian, ranked No. 136, performed on the biggest tennis stage in the world: under the lights of Arthur Ashe Stadium on Saturday night. Reveling in the spotlight on Saturday, August 31, she confidently seized the moment by upsetting 6th-seeded, and former world No. 1 player, Caroline Wozniacki in three determined sets – 4-6, 6-4, 6-3.
At 5-foot-6 and just 119 pounds, Giorgi is one of the smallest players on tour – yet takes control of the court and contacts the ball with a ferocity and accuracy that disguises her slight stature. Putting her all into every ground stroke, the Italian consistently pins her opponents deep behind the baseline, and certainly did so to a defensive Wozniacki.
Giorgi made her first successful major appearance at Wimbledon in 2012, where she defeated two Top-20 players to reach round 16. But Saturday night's US Open appearance was by far the biggest match of her life – to date.
During her match against Wozniacki, Giorgi never lacked for energy, though she avoided the fist pumps and self-exhortations of many of her peers. "I don't like to be too loud," she said. But Giorgi's father and coach Sergio often makes up for the vocal show of enthusiasm.
Sergio and his wife Claudia emigrated to Italy from their native La Plata, Argentina. Sergio fought in the Falklands (Malvinas) War in 1982, then fled to Italy and raised his family in Macerata, a small town in the Marche region near the Adriatic Sea.
Camila Giorgi lived in Italy until she was 10 before her budding tennis career took her from Valencia to Vienna and Palma de Mallorca to Paris. She then landed in Miami for a short time before returning to Italy last year, now living and training in Piza.
Nick Bollettieri had even offered Camila a long-term scholarship in 2000 to attend his Florida academy; the only other player to receive such an offer was Maria Sharapova.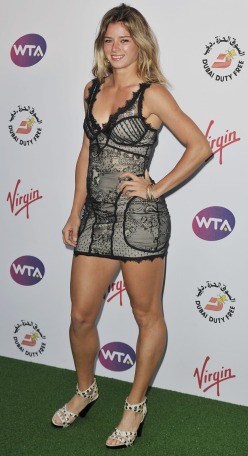 Giorgi not only makes an impressive appearance in her play, but also in her sense of style and model looks. Her mom Claudia is a fashion designer and designs all her tennis outfits. In fact, Giorgi wears a new design every match. Both Camila and her mom plan on launching a tennis fashion company together someday, with Giorgi as the face of the brand.
Unfortunately, the intense focus she put on beating Wozniacki, might have taken a toll on moving up further in this years US Open. On September 2, playing her fellow countrywomen, 30 year old, 10th seeded Roberta Vinci – Giorgi was defeated 4-6, 2-6.
For now, at this years 2013 US Open, other Italian women as well are making a showing by performing at high levels. But there is no doubt Camila Giorgi will continue to improve and be a higher contending player, once again shining on center court.