Celebrate the 2020 holidays with Giada from the comfort of your home on December 12 at 8:00 PM EST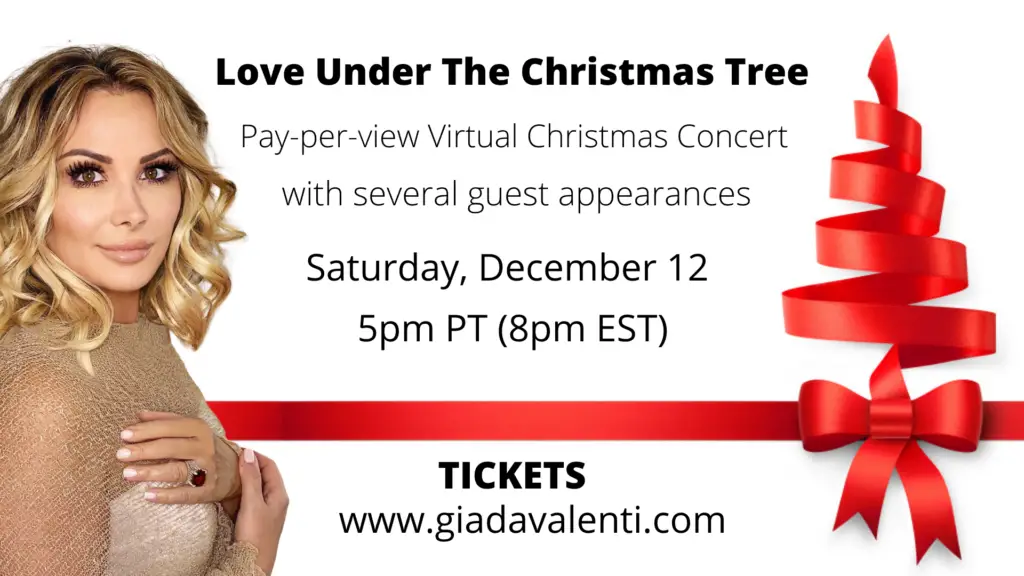 Giada Valenti's annual Christmas concert "Love Under The Christmas Tree", which is known for being one of the most romantic shows for the holidays, will be virtual this year – streaming live, Saturday, December 12 at 8:00 PM EST.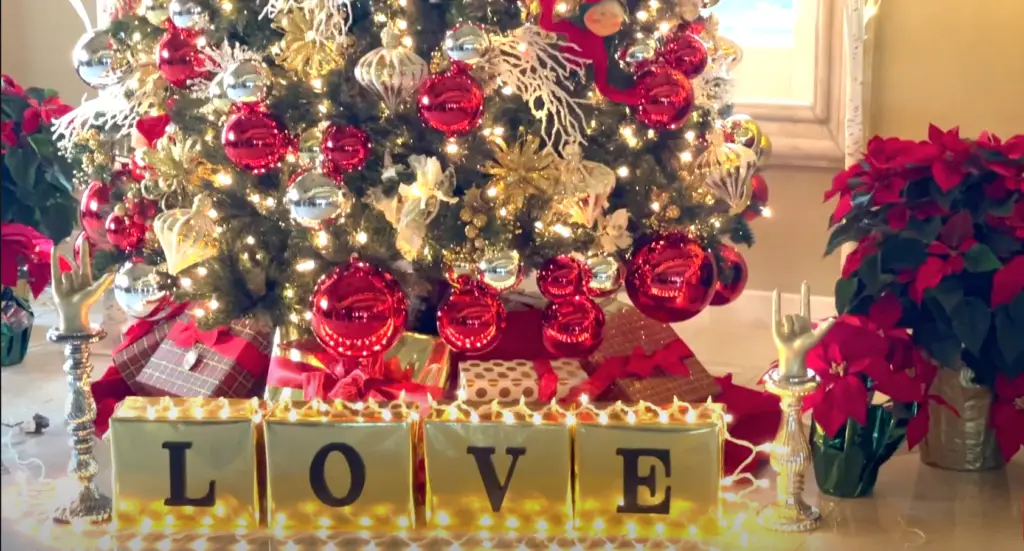 For the last five years the Italian singer and songwriter has performed her show in a theater in New York City. Now, during the pandemic fans will be able to enjoy her show safe from the comfort of their home.
Giada, who speaks and sings in five languages, will take her audience on a magical journey as she performs her own interpretations of holiday favorites like "O Holy Night", "Tu Scendi Dalle Stelle", "White Christmas", "Caro Gesu Bambino", "Santa Baby", "Rudolph The Red Nose Reindeer", "Silent Night", "Blue Christmas", "Jingle Bells" and more contemporary Christmas songs as "Mary Christmas Baby", Thankful", "I'll Be Home For Christmas" and several more.
Born and raised in Venice, Giada has always been influenced by her hometown, bringing its magic and romance to her musical style.
Giada's voice and spirit touches the heart of her audience as she performs songs from multiple music styles, from the haunting ballad "Silent Night" to the more rock version of "Merry Christmas Baby." Of course she will also sing her new single "What Child Is This", which she recorded with Paul Umbach (guitar & supporting vocals) and Volkan Canbolat (violin). A natural storyteller, Giada shares anecdotes and personal tales from her past, creating a genuine connection with her audience.
Giada will be accompanied by Dave Richardson on piano and keyboard, Ben Mauro on guitar, and Gabriel Falcon on percussion.
Giada will wear a dress that is specially made for the occasion by the legendary designer Randolph Duke.
LOVE UNDER THE CHRISTMAS TREE
Exclusive ticketed Global live streaming concert
Saturday, December 12 at 5pm PST (8pm EST)
Purchase Tickets: https://www.crowdcast.io/e/love-under-the-christmas
If you missed this beautiful Christmas concert guaranteed to lift your spirits and put some holiday cheer into your life… now you can purchase a ticket to watch the replay. Visit: https://www.crowdcast.io/e/love-under-the-christmas
ABOUT GIADA VALENTI

Singer and songwriter Giada Valenti was born and raised in Venice, Italy. In the United States, she is most known for her stunning music special "From Venice With Love", which aired on PBS television.
But her career started in Europe where she was signed as a young singer with record label Sony BMG and had hits climb directly to the top of the charts. When in 2005 a major record label in New York showed serious interest in her special voice and her romantic music she moved to the United States.
For the past fifteen years Giada, currently a resident of Las Vegas, has released her CDs "And I Love You So", "Italian Signorina" and "My Lullaby", "From Venice With Love", garnering rave reviews. She has been featured on the morning shows of ABC, CBS, FOX, and NBC. She performed for 8 years straight on the Red Carpet of the Columbus Day Parade in New York City. She is a 12 times Grant recipient of the Sergio Franchi Music Foundation.
The airings of her PBS special made is possible for her to do concerts in Performing Arts Centers and Theaters all around the country. In November 2017 she made her debut as a headliner in Las Vegas with a concert at The Smith Center for the Performing Arts. In October 2018 she made her debut at Carnegie Hall in New York City, where she returned by popular demand in 2019. Another career highlight was being asked in 2019 by Andrea Bocelli to sing with him at a concert benefitting his Foundation.
To stay in contact with her fans during COVID19, she started in March a live streaming video series on Facebook and YouTube, entitled Giada Live. This live streaming video has become almost a television show with celebrity interviews, cooking demos, stories about Italy, and of course singing. In September she celebrated her 150th episode.
Giada is very passionate about food. She is a longtime member of the Accademia Italiana della Cucina, a by the Italian government recognized cultural organization that checks out Italian restaurants around the World.
On December 6, Giada Valenti released her first Christmas single, entitled "What Child Is This". The recording also features Paul Umbach on guitar and Volkan Canbolat on violin.