Independent artist records ambitious Christmas album with Royal Philharmonic Orchestra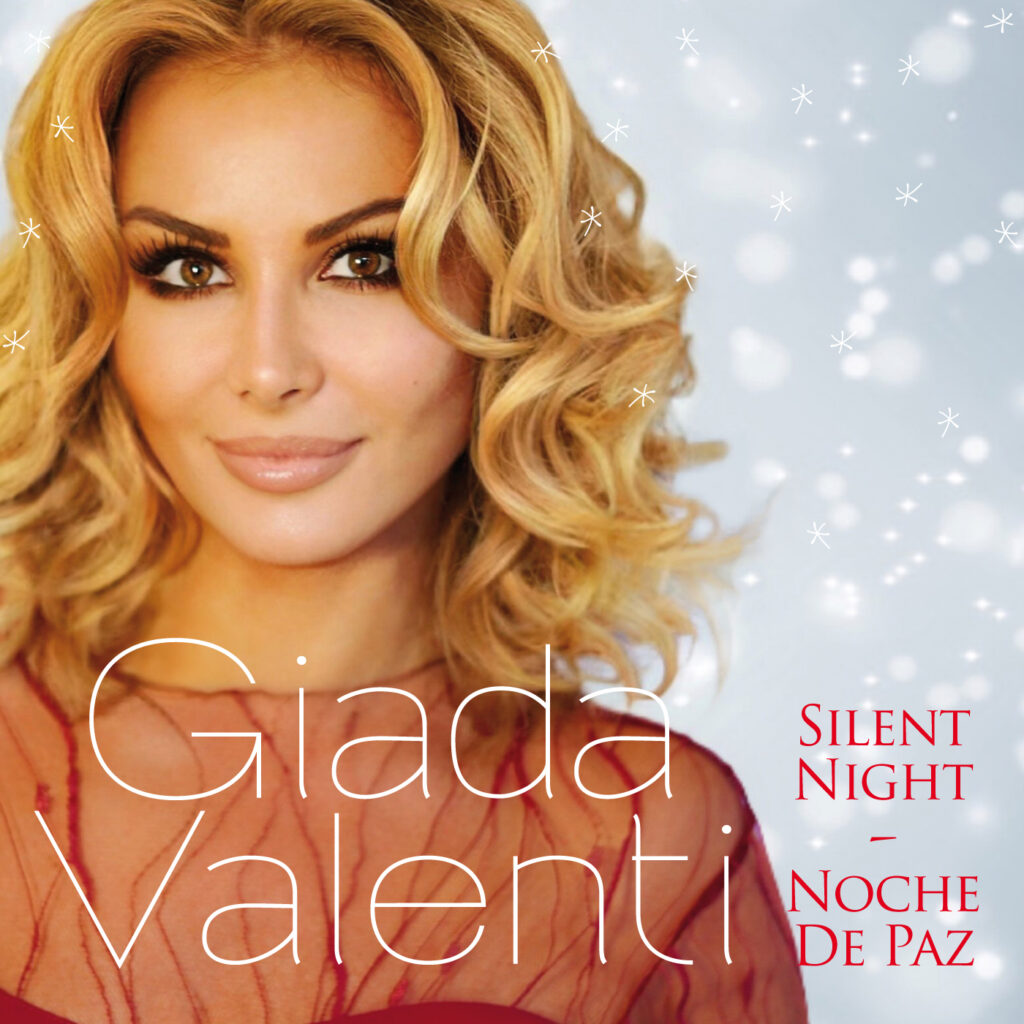 It took an award-winning team working on two continents, recording at Capitol Studios in LA and Abbey Road Studios in London, to bring Giada Valenti's latest album to fruition, but the wait is nearly over. The first single from the renowned singer's upcoming Holiday album is a gorgeous bilingual interpretation of "Silent Night," sung in English and Spanish. "Silent Night / Noche de Paz" will be available on November 5, 2021, and the full album is scheduled for a release in the fall of 2022.
Fittingly for our times, Valenti says, recording the single was unlike any experience she has had in her storied career. 
"I wish the reasons were different," she reflects from her Las Vegas home, "but working remotely with much of the team gave me some valuable time between each step of the recording process. It was wonderful to work with [producer] Gregg Field again, and we came up with a beautiful arrangement for this song. When I heard the Royal Philharmonic's rendition of our ideas—over my morning coffee here in Las Vegas—I was astonished. Some nuances only appear when a musical piece is performed, and the Royal Philharmonic did so brilliantly."
By the time Valenti recorded her vocals at Capitol Studios in Los Angeles, she had lived with "Silent Night / Noche de Paz" as it blossomed from sketch to arrangement to fully orchestrated song. "Time and distance allowed me to really inhabit the song in a completely new way," she remembers. "I've known Gregg since he produced From Venice with Love in 2016, and when I recorded with him this time around, I had the same sense of total harmony with the arrangement and the musicians."
Valenti's choice to sing in both English and Spanish reflects both her ideals and the song's recording process. "This is a 200-year-old German tune, sung by a native Italian and co-arranged by an American, with performances in London and Los Angeles. Performing it in multiple languages was a way to underscore the song's message while celebrating the blend of cultures that brought this recording to life."
"Silent Night / Noche de Paz" kicks off Valenti's Holiday Celebration project, which will include a television special, a concert tour of the United States, and a full album of Holiday songs. It features several duets with major artists and a carefully selected mix of standards and lesser-known numbers. 
The Italian singer used all her savings, her unemployments payments, and got some help from friends to fund the recording of this ambitious album. Although she is not signed to a big record label, she was able to surround herself with an exceptional team.
Jorge Calandrelli (Tony Bennett, Celine Dion, Yo-Yo Ma) and Shelly Berg (Gloria Estefan, Renee Fleming) joined Chris Walden (Adele, Andrea Bocelli, Josh Groban) in bringing 17 Grammy nominations to the album's musical arrangements, and eight-time Grammy winner Field (Seal, Alejandro Fernandez, Placido Domingo) served as producer. Valenti was joined in Los Angeles by a remarkable group of musicians, including Tariqh Akoni (Josh Groban) and Anthony Wilson (Diana Krall) on guitar and Nathan East (Fourplay) on bass. Don Murray (Mariah Carey, Johnny Mathis) engineered the sessions. For the orchestral sections, four-time Grammy winner Simon Rhodes (John Williams, James Horner), Abbey Road's Senior Engineer, recorded the Royal Philharmonic under the direction of Robert Ziegler.
 ABOUT GIADA VALENTI:
Singer and songwriter Giada Valenti was born and raised in Venice, Italy. She is best known in the United States for her PBS music special From Venice with Love, which aired nationally in 2015, 2016, and 2017. In November 2017, she debuted as a headliner in Las Vegas with a concert at The Smith Center for the Performing Arts. In October 2018, she made her debut at Carnegie Hall in New York City, where she returned by popular demand in 2019. Another highlight was being asked by Andrea Bocelli to sing with him, at a concert benefitting his foundation. Her albums include And I Love You So, Italian Signorina, My Lullaby, and From Venice with Love. Giada is also a Tiramisu expert and has done cooking demos on television shows around the country making the famous Italian dessert.
Link to listen on Spotify, Amazon Music and Apple Music: https://giadavalenti2.hearnow.com
To learn more about Giada Valenti's new single, along with her upcoming album and tour, please contact: JJ Pouwer at +1 213 632 6211 or jj@perlaentertainment.com