A Mesmerizing Fresh Sound of Jazz with Italian Style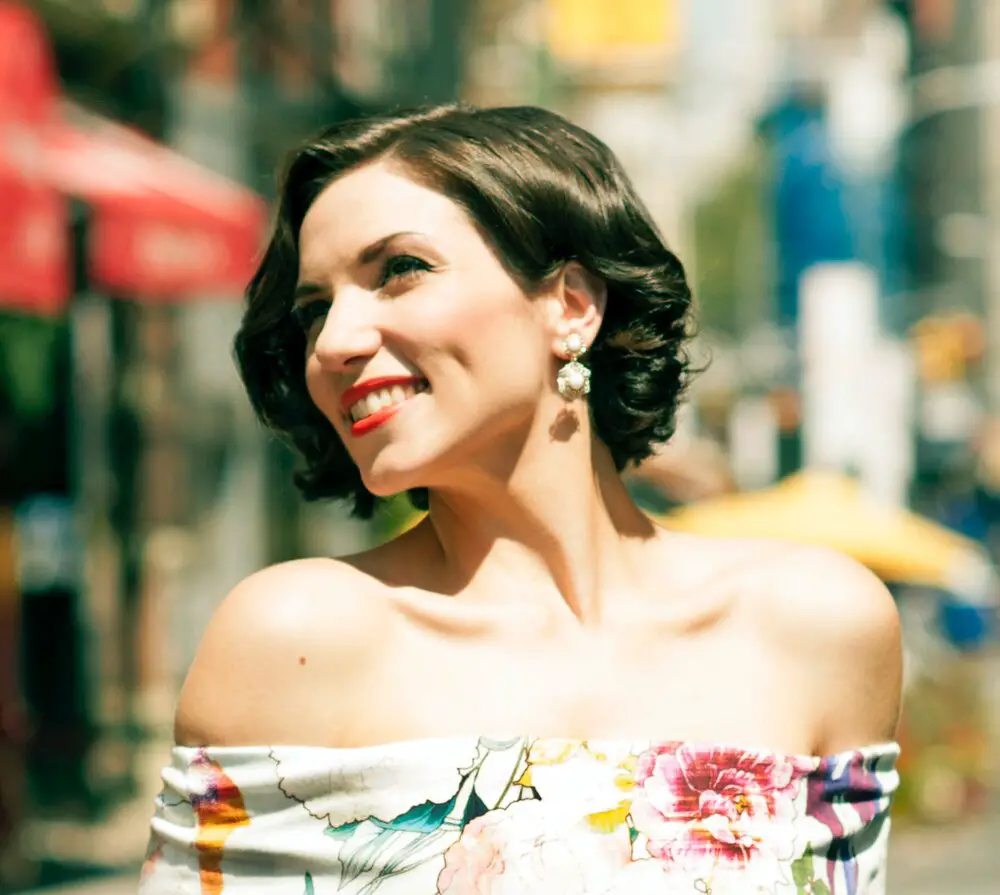 Vanessa Racci is a beautiful and versatile Italian American jazz singer. Born of a working-class Italian family in Thornwood, New York, she began singing when she was four. "Music was very much alive in my family," she says. Its source was her grandfather, Frank Prisciantelli, who lived in the basement apartment. Vanessa's early musical schooling came largely from his record collection. He took great pride in his Italian-American heritage and filled the house with its most beloved voices, including Frank Sinatra, Dean Martin, and Vanessa's favorite, Connie Francis. Vanessa and her grandfather spent countless happy hours singing those tunes together.
At Westlake High School in Thornwood, she won lead roles in several school productions. Her portrayal of Christine in Phantom of the Opera earned her the coveted Helen Hayes Award. But despite her talents, her traditional family urged her to take a seemingly more stable path, and after school she embarked on a career in marketing. Still, her musical dreams kept haunting her. "I said to myself, I have to pursue this, because if I don't I'm going to regret it for the rest of my life. That's when I discovered jazz. Those were the songs I found most authentic to my voice."
Vanessa continued performing solo shows throughout Manhattan and Westchester. In 2012 she launched a collaboration with Glafkos Kontemeniotis, the respected jazz pianist, bandleader, and accompanist. Glafkos, she says, was "a golden find. He was patient, and had the training and reputation to take my music to the next level."
In 2012, Vanessa became a finalist in the MetroStar Talent Challenge, an annual competition held at the Metropolitan Room, one of New York's foremost cabarets. A reviewer for Cabaret Exchange wrote that Vanessa "got the most vociferous applause for the evening" for her performance of "Cry Me a River." The following year she brought her own show to the Metropolitan Room. New York Cabaret Today called her "a star on the rise," adding: "This twenty-something is what cabaret is all about—fine, sexy, informed vocals, a winning personality, and a beautiful appearance. Vanessa can sing a modern ballad, a showtune, a blues tune, and do any jazz arrangement with ease and class."
Eager to keep learning, she took a master class with the star jazz singer Jane Monheit at Birdland in New York. Owner Gianni Valenti was impressed with what he heard, and encouraged her to make an album.
A theme occurred to her in 2016, immediately after her grandfather's death. Vanessa decided to honor him by revisiting the Italian songs he loved, while giving them a jazz flavor. Her highly acclaimed 2017 debut album, Italiana Fresca, features reinvented Italian classics her grandfather taught her. Vanessa puts a modern, jazz spin on these Italian songs she heard as a child; several are updated with her own English lyrics.
On the album, Vanessa is surrounded by a bevy of top jazz players; the piano playing and arrangements were supplied by Kontemeniotis and Yaron Gershovsky, longtime musical director for the Manhattan Transfer.
Since the release of that album, she has performed at over 70 Italian festivals, events and jazz clubs across the country and has been played on over 20 Italian radio stations across the US and Italy.
For her next project, she was inspired to pay homage to Italian American influence on jazz music after a performance in New Orleans and from learning of her relation to the late jazz guitarist, Tony Mottola. She debuted a new show, Jazzy Italian, on October 13th, 2019, at Birdland, to another sold out audience in celebrating Italian American heritage month. She is scheduled to record and release this as a new album in 2021.
Read more about the Jazzy Italian project and how you can help on her GoFundMe page.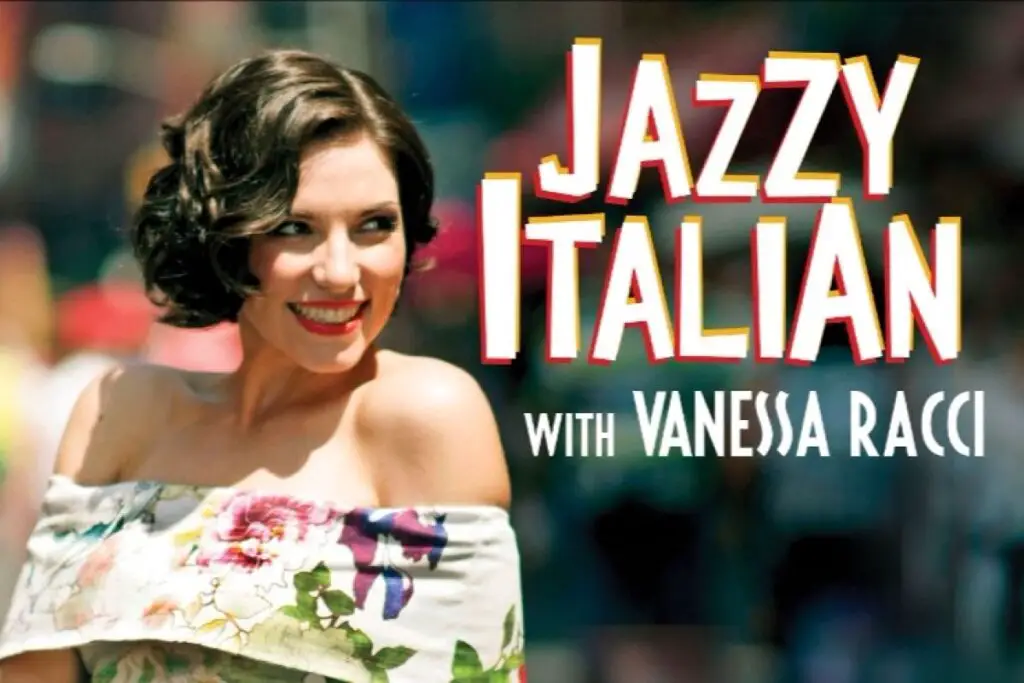 For more info on Vanessa Racci, visit www.vanessaracci.com
Follow @VanessaRacci on: Facebook, Instagram & YouTube 
For Bookings Contact: vanessaraccibookings@gmail.com
---
Interview with Vanessa Racci
Do you have any fond memories growing up in an Italian-American family?
Absolutely! I grew up most of my life living with my grandfather. He lived in the basement apartment and used to cook me Frittatas to bring to Italian class in school. He was a babysitter and chauffeur for me and my sister, and picked us up from school every day. He would make us snacks from fresh tomatoes grown in the garden and blast Connie Francis and Dean Martin tunes from his car. He was born in 1913, so he was truly a piece of living history. He was born in Harlem, NY to a housewife and piano maker from Bari. After having five children, his father died of pneumonia at the age of 25! Later, his mother remarried, had four more children and they moved to the Bronx. My grandfather was then drafted to fight in World War II on the Nahanta Bay ship in the Navy and sailed to the Philippines. In the service, he learned to be a boxer, then later on was a taxi driver and landed in the Carpentry profession in the Union. Anyhow, I went on a rant regarding my grandfather, but it was he who influenced my vintage style and affinity for classic music. We also used to have dinners together every Sunday. My mom would make a giant pot of sauce on the stove with meatballs and sausage and we'd all gather around the table. For special occasions, we ordered pastry from Artuso's Bakery and my grandfather and I would always split the pasticciotti. So, yes, I have very fond memories!
Have you been to Italy, if so, do you have a favorite part?
Yes, I have been to Italy; Rome, Napoli, Venice, Positano. I was planning to go to Bari, where my great grandfather was from, in 2020, but had to postpone. I'm thinking that will be my favorite part.
What do you enjoy doing when you're not singing?
I like to engage with my fans on social media / email, take nice long walks / hikes, hang with my hubby and talk about the day and watch awesome movies and shows.
Do you cook? Have a favorite Italian dish?
All of my free time is spent on my music, so I don't cook, but my husband is a phenomenal cook, so I'm an expert eater 🙂 My favorite Italian dish is my mom's spaghetti aglio e olio with sun dried tomatoes with pecorino romano. MMMM MMM! I could eat an entire bowl (and often do!) lol.
Do you have any favorite Italian restaurants in NYC?
OH YES! I am gluten intolerant, so Senza Gluten is one of my favorites as they offer all traditional Italian comfort food dishes gluten free! I also fell in love with Malaparte; very authentic; owners from Rome, Wild; is also amazing; all gluten free and many Italian dishes. I'm also a huge fan of Eataly's Birreria, but who isnt!?
Are there any artists you would love to collaborate or perform with that you haven't yet?
Oh man. The dream would be to sing with Michael Buble! My other favorite artists are Connie Francis, Alicia Keys (who is Italian by the way) Lady Gaga, Tony Bennett.
I know you're working on a new album, are there any future projects you can share?
Yes! I'm working on my History of Italian Jazz album hopefully to release in Fall, 2021. Also, I'm cooking up a Connie Francis / Bobby Darin review. Stay tuned for more!