The hamlet of San Gimignano is the symbol of a tradition that has remained unchanged from the Middle Ages until today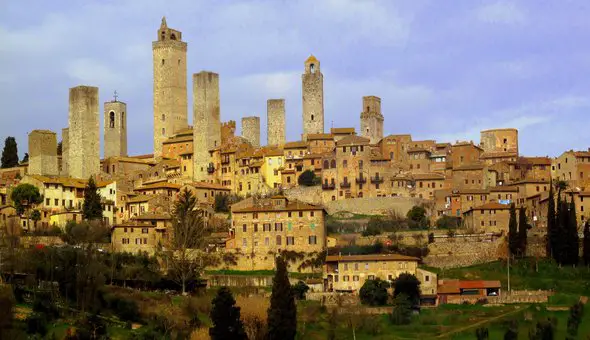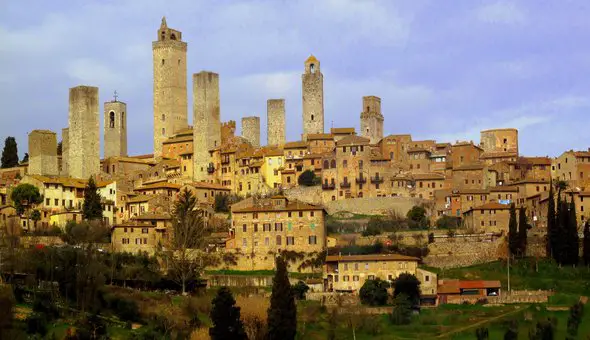 This awesome skyline is known throughout the world for its towers, and legacy of a past in which power was demonstrated by an impressive architecture.
During the struggle for supremacy between rival families, the loser's tower-house would be demolished and the winner's one elevated for even more height.
There were over seventy towers, raised and torn down according to the power play and success of a family over the other, as long as there remained standing only a few.
Today the towers left are concentrated between Piazza del Duomo and Piazza della Cisterna, in the living center of the city, halfway between the main entrance doors Porta San Martino and Porta San Giovanni.
The entry into the city took place more frequently from Porta San Martino, oriented to the North Europe from where the pilgrims on the Via Francigena used to come.
The luck of San Gimignano, indeed, compared to other towns of Tuscany, has always been the location. Situated halfway between Florence and Siena, along the routes of pilgrimages and trade on the Via Francigena yesterday, is near the fast flowing road today, and so very easy to reach.
The surroundings of the town offer the opportunity for one to immerse themselves in pristine nature, where it is not unusual to see deer and boar just as back in the Middle Ages.
You can experience a stay in an ancient pilgrims hospital now turned into an inviting resort, exceptional restaurant and sophisticated bar right in Piazza della Cisterna overlooking the Tuscan countryside.
Visit website for further information:  Hotel La Cisterna