The Middle Age's Manhattan could be defined as San Gimignano, according to American tourists who see the skyscraping hamlet suddenly appear between the hills of the Tuscan countryside.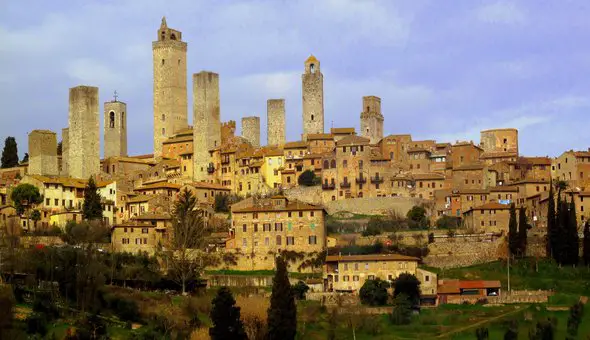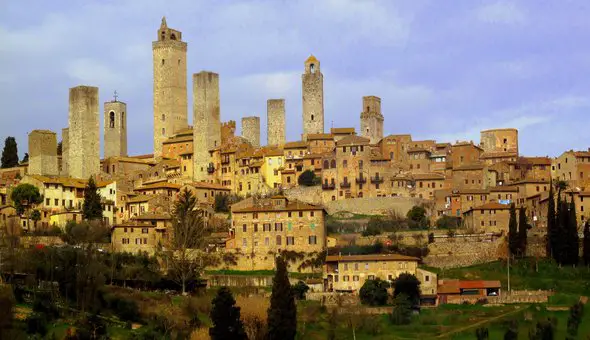 Thirteen towers are left to be exact, but you have to imagine that there were further more in the year 1300, but the habits of the times were to destroy the enemy's tower after a battle. And yes, San Gimignano citizens were very contentious.
Although the towers used to be many more, what Tuscany offers to a tourists' glance is still an amazing crowned-top hill. San Gimignano is undoubtedly one of the most spectacular picturesque landscapes of this kind, but it's not the only one.
Suggestive silhouettes of fortified villages are a widespread phenomenon in Tuscany: that's the case of Monteriggioni with its still intact city walls, and Certaldo, Boccaccio's birthplace, as well as Chianti's hamlets.
So the best way to visit this charming area so rich in 'visions' is simply to get lost in it. Rent a car or a mythical Vespa and let yourself wave up and down the hills: being sure that after every curve you will be astonished by emerging cypresses, old churches and castles.
Finding the best vantage points can become the key component of your visit to San Gimignano, while enjoying day trip tours and the ancient surroundings.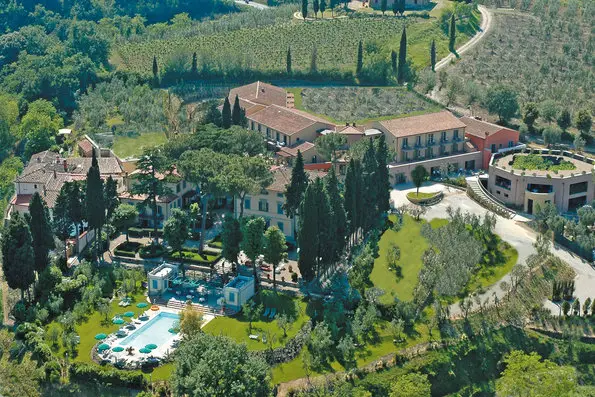 Villasanpaolo Wellness & Spa Hotel is an elegant accommodation along the leafy road leading from San Gimignano to Certaldo. Restored from a wealthy Venetian merchant's villa who had chosen the Tuscan countryside for his retreat, is today one of the most welcoming spa resorts in Tuscany and it grants an unsurpassed view of the Middle Ages with all the conveniences of modern life.
For more information: Villasanpaolo Spa & Wellness Hotel – San Gimignano (SI) Italy www.villasanpaolo.com