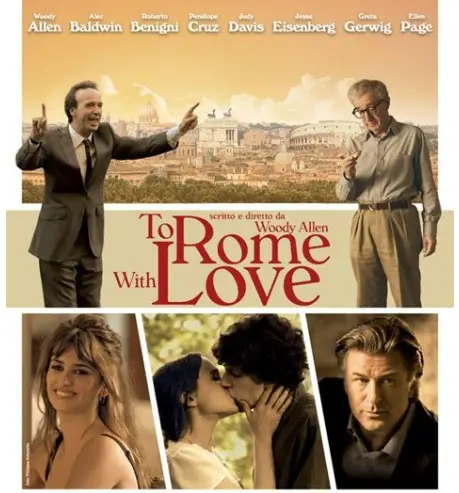 Woody Allen says his new movie "To Rome, With Love," is a tribute to all the old Italian films that influenced him as a young artist
The film, which stars Allen, Alec Baldwin, Roberto Benigni, Penelope Cruz, Judy Davis, Jesse Eisenberg, Greta Gerwig and Ellen Page, had its world premiere in the Eternal City earlier this month.
"I grew up on Italian cinema. I have always been an enormous admirer of Italian cinema. Anything that appears in the movie that is redolent of Italian cinema is strictly something that I have absorbed through osmosis over the years and it comes out," he said at a news conference.
"It would have been impossible in the years that I grew up to not have been influenced by the Italian movies that came to New York. These are the films that I saw, my fiends saw, they were very impressive," he said.
Allen, 76, grew up in Brooklyn and, after writing for television, started his career as a stand-up comic in Manhattan's Greenwich Village, where he saw many of the great Italian films of the 1950s and 1960s by directors such as Vittorio De Sica, Roberto Rossellini, Michelangelo Antonioni and Federico Fellini.
"Naturally, when you make films you tend to make the kind of films that you have absorbed and have enjoyed as you developed and you grew up. It's an unconscious influence but a very substantial one," he said.
"To Rome, With Love" is made up of four episodes of adventures and misadventures.
The film took in €2.8 million ($3.7 million) in its opening weekend in Italy, making it the top-grossing film in the country and giving it the most successful opening-day total for any of Allen's films in Italy.
It is scheduled to open June 22 in the U.S. and across Europe later in the summer.
For more info & preview visit: http://sonyclassics.com/toromewithlove