Latest enigmatic car from Pagani, the Huayra, purchased for top dollar bragging rights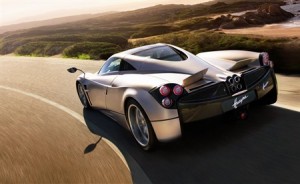 When the first Pagani was launched in 2002, Autocar magazine hailed it as "the car with the best acceleration since the McLaren F1".
Its latest model is the the Huayra (pronounced 'wai-rah' and named after the South American god of wind).
Unveiled to great fanfare at this year's Geneva Motor Show, the exotic Pagani Huayra has been snapped up by an anonymous Middle Eastern buyer at an eye-popping US$2.3 million, or about twice its listed price – simply for the bragging rights to being the first person to own a Huayra.
The Pagani strategy is to focus on research and development, design and assembly, and outsource the rest. One of its key competitive advantages is its use of a lot of carbon fiber, reflected in the carbon fiber molding equipment and skilled staff deployed in this area. Engines are powered by Mercedes-Benz, in close collaboration with Pagani. The Pagani Huayra is a 700-hp beast powered by a Mercedes-Benz AMG 6.0L twin-turbo V12 engine, with a maximum torque of 740 lb-ft and a top speed of 230 mph.
To learn more about this stunning famed Pagani, visit: www.pagani.com/it/huayra/default.aspx