Spring is an exceptional time to enjoy all of this islands beauty – and Hotel del Golfo makes it even more enticing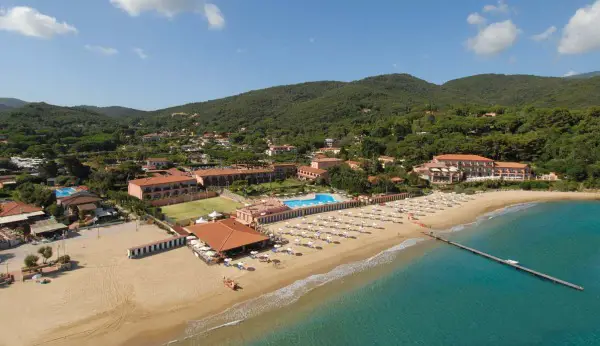 The Elba Island has a temperate climate throughout the year, but the Spring is certainly the season that best fits to a visit, in order to escape the large number of summer tourists.
Spending Easter on Elba Island is an opportunity to indulge in the first sun on a surprisingly intimate beach and taking long walks in nature.
The Biodola Beach, is one of the largest of Elba: more than 600 meters of fine sand much loved by both young people and families with children.
From here, you can set off on a boat trip to the Isle of Pianosa with a visit to the Baths of Agrippa and the Roman catacombs.
Hiking lovers can explore Procchio Beach and follow the so-called Western Ring, which is the coastal road that leads from Procchio to Marina di Campo through fresh chestnut trees.
It is still possible to visit Villa dei Mulini in Portoferraio town and Villa San Martino, the summer residence with their rich historical furniture.
But besides these beautiful landscapes, the island also has a considerable historical significance due to exile of Napoleon, which this year marks the bicentennial.
Although Napoleon stayed just 10 months in Elba, in that short period he took very seriously his role of leader of the island. In fact he ruled it so well, that Elba's citizens still remember him in a positive way, and this year they are going to have a celebration of 200 years from when Napoleon landed there.
Napoleon worked hard to improve the island's infrastructure, ordered hospitals built, and tried to increase the availability of drinking water. After so many years of dominating much of Europe, it is impressive that he actually seemed to care about the welfare of the tiny island's inhabitants, and that he did not simply "give up" while in exile.
For a special Easter stay on Elba Island, visit: Hotel del Golfo