A motivating source of pride and accomplishment
When did this culture become so instistant on having everything come instantly and easily? Instant is a box of potato flakes, which when mixed with water turn into something that is supposed to at least look like the real thing. Easy is driving up to a fast food window and gobbling down a homogenized burger with one hand while driving home with the other.
When we expect things to come easily and instantly, we become frustrated and irritated when suddenly faced with a challenge, whose resolution is neither instant nor easy. We panic, throw our hands up in defeat, and feel like we have failed, because life is just too hard.
I beg to differ. You are neither a loser, or  a quitter –just a victim of a cultural mindset that presumes that everything we desire should appear before us, without having to do anything to earn it.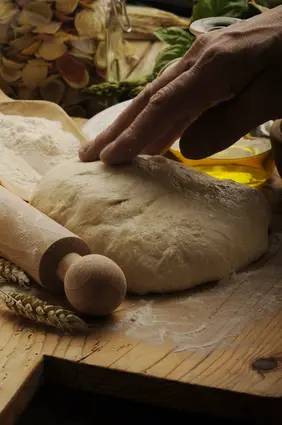 Happiness can be earned through working at it. True self-esteem is a BYPRODUCT of hard work and the feeling of self-satisfaction and accomplishment that comes with it. Maintaining a fit and health body is also a combination of "working" out, or "working outSIDE" (on your garden, lawn, snow shoveling, etc), and good old-fashioned home cooking. This last point is worth highlighting, as home cooking is really the foundation of a vibrant physical body–and it even affects your mood!
So when did eating-in and cooking at home become viewed as tasks of oppression to be avoided like the plague? My grandmother kept a second kitchen in her cellar, where she made her own sausage, breads, pasta, and braciole. On the other side of the cantina was the wine cellar. Her sons crushed grapes and poured the precious liquid into large wooden barrels. In a third part of the cellar was where she kept the fruits and vegetables which she canned from her garden. These homemade products did take  "work", but never was it looked upon as anything other than a source of pride and accomplishment—and an investment in everyone's good health. A by product of hard work, or "lavoro sodo", as I mention in my book "Lemons into Limoncello: From Loss to Personal Renaissance with the Zest of Italy" (HCI) is that while you are so immersed, your problems stay far away.
There is no need to be overwhelmed at the thought of turning the clock back to simpler (albeit more labor-intensive) times. This week, try reconnecting with just ONE task of yesteryear. You might start with this simple home-made pasta (pasta fatta in casa), from Elodia Rigante's "Italian Immigrant Cooking"). You will be amazed at how simple it is, and how euphoric you will feel while preparing this delight, and afterwards getting all of those compliments from the people you have invited to your table to enjoy it with you.
Oh..and do invite me to dinner sometime, so I can personally be the "judge" of how it came out.
 Buon appetito!
Basic Pasta Dough
4 c. all-purpose flour, 1 tsp salt, 4 eggs, 1 Tblsp olive oil
Instructions:
Sift the flour and salt together and pile on a pastry or cutting board. Make a well in the center and place th eggs and the oil in it. Work the eggs and oil into the flour with your fingers until a firm dough is formed. knead the dough until very smooth and elastic, about 10 minutes. Cover the dough with a cotton cloth and let it rest for 1/2 hour. Divide the dough into 3 pieces. Roll out each piece as thin as possible on a floured board–the thinner the better. Cut into desired shapes (spaghetti, linguine, fettucine, lasagna noodles), depending on what type of pasta you intend to make.
Bring a large pot of water to a boil, add a tablespoon of oil, and throw in the fresh pasta. Stir the pasta immediately to make sure it is all separated. Because it is fresh, it will tend to stick together. It will take only a few minutes to cook.
NEW: Do catch my new advice column in The Italian Tribune! You can send me your questions here: raeleenmautner@gmail.com
---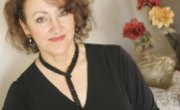 About the author
Dr. Raeleen D'Agostino Mautner is a self-help/personal development expert, speaker, certified Life Coach, Psychology Instructor, and Producer and Host of "The Art of Living Well", Connecticuts "hottest self-help radio show" on 88.7FM or streaming www.wnhu.net, Mondays 7-8AM. Mautner is the author of two books, including "Living la Dolce Vita: Bring the Passion, Laughter, and Serenity of Italy into Your Daily Life", has been quoted in many publications, including Family Circle and First for Women. She has written for Psychology Today, The Chicago Tribune, Quirks Market Reearch, The Italian Tribune, America Oggi, and Italian America. Dr. Mautner has made guest appearances on numerous national radio and TV programs. Her self-help blog has become a treasure trove of inspiration, motivation, and new ideas for living well.
---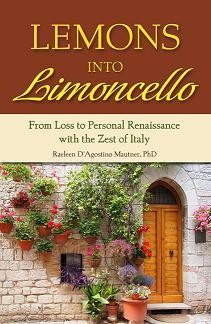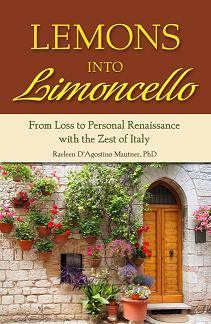 Dr. Mautner's new book released in the Spring of 2013 and published by HCI is called "Lemons into Limoncello: From Loss to Personal Renaissance with the Zest of Italy". This extraordinary book will help ease recovery and renewal for readers who are going through loss, change, or transition and is all about rebuilding your life following adversity. The cultural wisdom, comfort, and (extra)ordinary Italian lifestyle habits presented can help you re-establish your passion for living.
This is a highly rated and recommended book by Italia Living's Founder & Executive Director, Richard J. Michelli.