Richard J Michelli created luxury portal to feature the best that Italy has to offer
As Founder/Executive Director as well as contributing writer/blogger and editor for Italia Living, Richards love of the Italian lifestyle, Italy and all things Italian inspired him to create ItaliaLiving.com in 2007, by finding a market niche focusing primarily on luxury Italian topics.
To keep himself in the networking loop and on top of industry trends and happenings, Richard is a member of the NIAF and OSIA, among other Italian and luxury related organizations.
Due to the growth success of Italia Living on social media, Richard also helps other businesses and brands expand their own media marketing visibility with digital, social and mobile through DiSoMo Solutions.
In addition, Richard is also involved in work with business development consulting for IT contractors, with the Department of Defense and other federal markets through Michelli Associates, Inc.
From 2014-16 Richard served on the Board of Directors for First Atlantic Federal Credit Union.
Richard keeps busy with other volunteer and charitable activities as well. He and his wife Angela are actively involved at Monmouth University. Richard is on the Blue/White Club Leadership Council supporting athletics at the University, where he also served terms as the councils VP and President.
Richard is a Trustee for the Michelli Family Foundation which supports advancements in Education, Healthcare and Philanthropy Awareness.
He resides in the United States on the beautiful Jersey Shore with his wife and two sons, who also keep the family very busy between their various sports and music activities.

Recently, Richard shared some of his thoughts regarding ItaliaLiving.com and what continues to make them successful…
"There are plenty of luxury related websites with new one's popping up constantly," says Michelli. "I had a vision to create ItaliaLiving.com to become a premier Italian luxury digital, social and mobile publication for people all over the world with refined taste – featuring only unique, elegant, and high quality Italian products, services, and travel, while also providing insight into living la dolce vita and the Italian lifestyle." Michelli adds, "…we are not a retail website, but rather an online portal to the world of Italian luxury and fine living."
Italia Living is a leading media influencer for Italian luxury – 'A Fine Living & Luxury Portal to the Charm & Elegance of the Italian Lifestyle'.
While they tend to go after the affluent market of consumer and traveler, Italia Living offers something for everyone wishing to experience the finest things in life – Italian style of course.
Italia Living combines sophisticated quality editorial content on a wide variety of topics like Food & Wine, Fashion, Travel, Celebrity Spotlight interviews and more, to videos & webisodes, plus exclusive VIP offers and contests.
Italia Living showcases only the highest quality of Italian products, services and destinations for their readers. While many websites take advertising from almost anyone willing to pay, Italia Living seeks out select brands and businesses who's quality and service they can honestly recommend… something their faithful readers appreciate and Italia Living prides itself on.
Michelli adds, "First and foremost we want to present good quality content to our readers, but we also want to provide an outlet where luxury brands and business can come to interact with and reach a larger audience they might not have had access to before."
While Italia Living readership is worldwide, their largest target markets of readers are in the United States and happen to be the top regions of NYC, CA & FL as well as several major U.S. cities – prime market areas for many Italian brands wishing to expand their visibility into the U.S. markets.
"More upscale brands and businesses today that want to penetrate the U.S. market, are reaching out to Italia Living as their media and marketing source," says Michelli. "We will work to represent your business as a brand ambassador, or work along with your current marketing firm or team to expand your marketing efforts and visibility." Michelli says that their reputation in the industry and quickly growing target markets of readers, consumers and travelers, is a high appeal to Italian brands and businesses wanting to be affiliated with Italia Living.
Michelli stresses, that besides visiting their growing and evolving website, there are many ways to follow Italia Living and interact. Italia Living has embraced social media, and uses this to help their Featured Partners to expand their own visibility through these audiences of followers.
Italia Living is active on major social media platforms such as Facebook, Instagram, Pinterest and Twitter. Their website is enhanced for mobile viewing, in addition to offering a periodic email newsletter.
Italia Living is also active on many affluent social media sites such as ASmallWorld, Best of All Worlds and Luxury Society. Their presence on these high level and invitation only social media sites, allows Featured Partners of Italia Living to reach a further affluent and jetsetting audience that they might not have reach otherwise.
On Italia Living social media pages you will find some content not seen on their website. For example, on Facebook you can see captivating photos highlighting the luxury and fine living of Italy, as well as the latest happenings and special offers from their Featured Partners – such as illy coffee, Fratelli Piccini, TrueFacet, Luxo Italia and Montegrappa to name a few. You can interact with your own thoughts and comments… and of course invite and share with your friends. In fact, many Italia Living Featured Partners have collaborated with Italia Living simply to have access in reaching the quickly growing and actively engaging Italia Living social media audience.
The niche audience of Italian luxury and lifestyle that Richard Michelli has successfully captured, has lead him to developing several high profile relationships. Some of which involve collaborations with Italian singer/songwriter Giada Valenti, comedian Mike Marino and published editorial reviews such as in the book "Lemons into Limoncello" by Dr. Raeleen D'Agostino Mautner, Ph.D – just to name a few.
"We have constant plans and ideas for the future." says Michelli. "We want people to bring back the essence of the Italian lifestyle into their hectic lives, no matter where you live in the world. Experience the beauty and unmatched excellence in the finest of Italian design, craftsmanship and quality of "Made in Italy" products. Of course for Italians, nothing beats good food, fine wine, with great company… celebrated. Italy's finest resource is it's people, and sharing the best of their heritage, culture, products, and lifestyle is what Italia Living is all about."
While the website, ItaliaLiving.com, as well as it's social media outlets are currently run primarily by Michelli himself, he does get plenty of valuable help. He says, "Italia Living maintains a small team of like-minded people who live in the United States, Italy and elsewhere abroad – and share a united deep passion for all things Italian. I am very grateful to have writing contributors and associates from all over the world who have become friends, and share their time, talents and knowledge with our readers as contributing writers – as well as helping with marketing and growth efforts."
Michelli concludes, "There are so many wonderful things come out of Italy – and what we love the most is sharing them with our readers and followers around the world."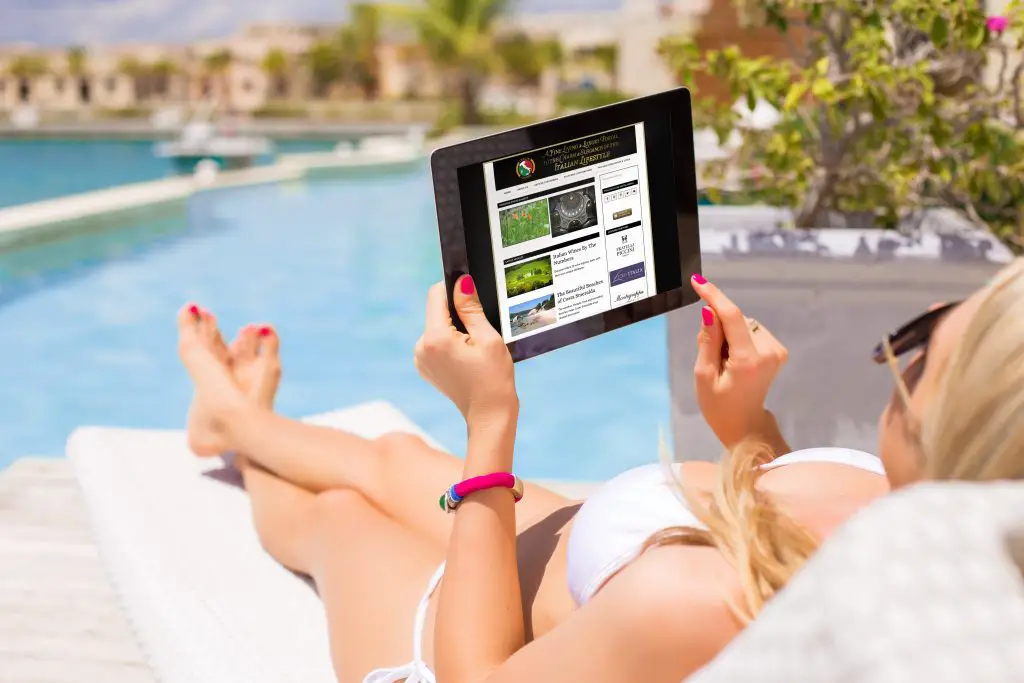 ---
If you represent an Italian brand, business or destination and would like info on partnering opportunities with Italia Living, let us know!
More info, visit:  Italia Living Collaboration Partnerships
---
CONTACT US:
---