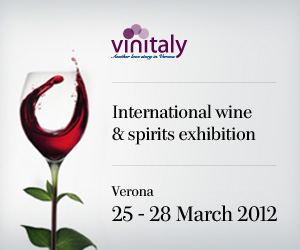 New date. Same passion. The world's most important exhibition of wines and spirits is set to return with new dates over one week, Sunday 25-Wednesday 28 March 2012, to help create even more business opportunities for companies and specialist visitors arriving from all over the world. It is not only for the professionals but also for the wine lovers as well.
Vinitaly is the main reference event in the wine sector: the 2011 edition welcomed more than 4 thousand exhibitors over a show area of 95 thousand square metres, with 156 thousand visitors (more than 50,000 international from more than 110 countries).
Four days of major events, meetings, tastings and targeted workshops to encourage contacts between exhibiting cellars and trade operators, together with an impressive convention programme discussing and analysing topics associated with supply and demand in Italy, Europe and the rest of the world.
For much more information visit: www.vinitaly.com/EN