Wine Festival unveils exquisite wine lots at massive charitable event for children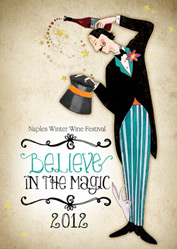 Ranked among the top 10 arts and entertainment events for wealthy Americans, The Naples Winter Wine Festival will once again raise the bar of elegance and luxury in 2012 with a stellar lineup of one-of-a-kind wine lots. When the auction commences on Jan. 28 in Naples, Florida., patrons will have a chance to bid on rare and collectible bottles including a 35-bottle vertical of Château Haut-Brion spanning 84 years, exclusive trips to some of the world's most iconic wine estates from Napa Valley to Tuscany and once-in-a-lifetime VIP experiences. Full festival events span three days from Jan 26- 29, 2012.
All of the funds raised by the festival benefit Naples Children & Education Foundation's mission of supporting charitable programs that improve the physical, emotional and educational lives of underprivileged and at-risk children in Collier County.
The Naples Children & Education Foundation has raised more than $94.5 million at the Naples Winter Wine Festival since 2001 to create and expand charitable programs serving underprivileged and at-risk children in Collier County. As a direct result of the investments of NCEF, more than 125,000 children have had their lives improved. The foundation is governed by a nine-person board, representing 69 trustees, and currently supports 23 grantees and long-term strategic initiatives focused on children's early learning, medical/oral health, out-of-school programs, behavioral health and childhood hunger.
The Naples Winter Wine Festival, the most successful charity wine auction in the world, is the primary source of funds for NCEF. Wine Spectator magazine has ranked NWWF as the nation's top charity wine auction since 2004. The festival is planned and executed by the trustees, foundation staff and hundreds of volunteers.
Festival events span three days, beginning with Meet the Kids Day, during which guests interact with children who have benefited from festival proceeds and witness charitable dollars at work. Guests enjoy wine tastings throughout the weekend. They also attend intimate dinners prepared by famous chefs at private homes of NCEF trustees with wines selected and poured by renowned vintners. A festival highlight takes place at The Ritz-Carlton Golf Resort, Naples – a founding sponsor of the festival – with a culinary showcase and live auction of 67 lots. A wine-down party that evening and brunch the next day bring festivities to a close.
Festival ticket packages are $8,500 per couple; $20,000 for reserved seating at the same vintner dinner for two couples. For a schedule of 2012 festivities and more information about the Naples Winter Wine Festival, visit www.napleswinefestival.com or call 888-837-4919.
• Event Organizer: Naples Children & Education Foundation
• Venue: The Ritz-Carlton Golf Resort
• Address: 2600 Tiburon Drive   Naples, FL   34109