Kimberly Zanni masters the art of staying true to her high quality convictions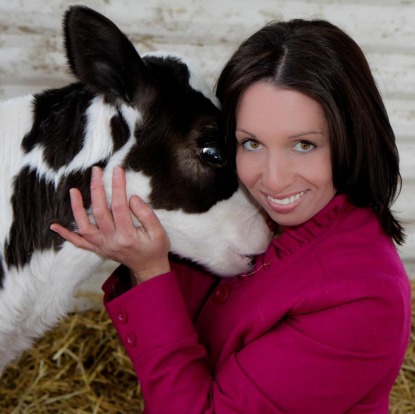 During a summer trip to Naples, Italy, Kimberly Zanni fell in love with gelato. She found that the enjoyment of this frozen treat and passion the Italian people have for gelato, is very similar to that of their coffee.
Upon her return to the United States and due to her new found love of gelato…and desire to supplement her income…Kim began experimenting with recipes sent from friends and family from Italy. Adding her own twist and a focus on all-natural ingredients, she was able to create a product she was excited about. Naming it, Gelato di Babbo, which literally means, "hit the streets". She began peddling it to rave reviews in July 2007 in Lititz, Pennsylvania, a popular tourist destination in Lancaster County.
The small town atmosphere allows Kim to work closely with local dairy farmers she has built relationships with. She visits her diary supplies regularly to check in on the cows and discuss cream production with the farmers for her gelato products.
In 2011, Kim launched her parent company, Zanni Foods, Inc., to expand upon her inspiration from Italy. The Zanni Foods business model is simple – use local ingredients whenever possible and import unique specialty ingredients that no other manufacturer uses. The specialty products are currently regional desserts, unique treats, and dinner delicacies.
Today, Gelato di Babbo™ is one of Pennsylvania's largest producers of artisan gelato and is the lowest fat gelato you'll find on the market. It can be found in several supermarkets, specialty retailers, restaurants, cafes and online.
Besides making the gelato, Kim also does all her own marketing from product shots to sales and red carpet events in NYC. Her product has been served at several celebrity events and private house parties in the Hamptons.
All of this is a reflection on her desire to succeed, while working hard yet implementing a business model that is eloquently simple: to use local ingredients whenever possible and import unique speciality ingredients that no other manufacturer uses, creating a market niche of high quality products for customers with discerning palates.
Kim and 15 other gelato chefs will battle it out next month for the title of Best Gelato Chef in North America, by competing in the Gelato World Tour in Austin, Texas from May 9-11, 2014.
For more info visit her website at: https://zannifoods.com/
An interview with Kim Zanni

What made you decide to start making and selling your own gelato?

I had a video production business and was trying to think of a way to make some extra cash on the side between contracts. When I was laying on the beach in Italy, it came to me. Gelato from a cart! No one was doing that where I lived back home.

How many gelato flavors do you produce, and do you ever run limited time flavors?

I can make anything you can think of into a gelato flavor. I do have a limited edition flavor that I swap out in the supermarkets.

Do you have a favorite?

Well, the pistachio is number one of course. Because I made the voyage to Mt. Etna in Sicily to get the best pistachio in the world that is harvested once every two years…all by hand. It actually grows in the volcanic rock of Mt. Etna…pretty amazing experience.

Do you come up with the flavors yourself, or do you have a team you work with?

I am a one woman show.

More major ice cream brands are branching into offering gelato.  As a small artisan brand, how do you stress to customers that Gelato di Babbo is different and better?

I used to be ahead of the trend 6 years ago when I brought it into stores, but then everyone started coming out with it. I struggle to compete against national brands because most people are stuck in a routine or brand loyalty…they aren't interested in trying something new. I tried to keep my packaging very authentic with Italian written on it. I have to continue to stress that my product has the lowest fat and is the  healthiest gelato product on the market. Much of this communication I do through social media. It's been a real struggle competing against those national brands. Because at the end of the day if my sales numbers aren't high enough, I'm cut from a chain in a blink of an eye…just that easy.

Are there any future plans of your brand you can share with us?

I've recently started a new company Gbella Inc., it's the future of Gelato di Babbo and anything else Italian I want to create and brand.

What are your expansion hopes and dreams?

Expanding beyond the East Coast. Retail chains and stocked in major supermarket chains nationally.