A refreshing and masterfully crafted tasteful work of art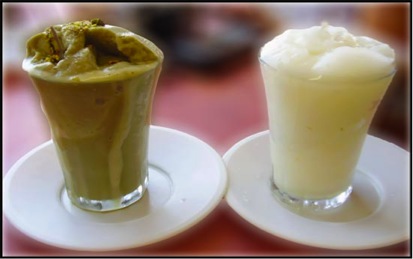 Cannoli, Cassate Siciliane or the traditional "Gelo di Melone" (watermelon jelly) are the most popular in Sicily, likewise every province in Italy is rich in novelty and surprises. And just in this very hot part of the year, we cannot miss to remind you of this regions exquisite products such as ice-creams and granitas. In summertime, it's considered almost a custom to offer to an invitee a traditional lemon, coffee, or almond granita, but the fantasy of the Sicilian artisans has also created a variety of other refinements such as jasmine granita.
Sicilian granita is a masterful work of art, which invites you to enjoy it many times during the day. Best of all, since that it is based only on fruit and water and with a marginal quantity of sugar, it has minimal affect in terms of calories. Unfortunately only one who lives in Sicily can taste this specialty, whereas Sicilian granita is really the founder of its kind. Certainly other regions of Italy produce granita too, and I don't dare to despise it, but I can't help saying that it's only an imitation. Sicilian granita is not based on small pieces of ice with adding syrup as you can find in the rest of Italy, but it's just the mixture of fruit and water to freeze, and that's the difference between it and the imitation of it. This substantial difference is easily noticeable both visually and in taste as Sicilian granita is creamy and nearly as smooth as sorbet.
The origin of granita traces back to Arab rule in Sicily. Arabs brought with them "sherbet" namely an iced beverage flavored with fruit juice or rose water. Sicilians copied this recipe by using snow collected in winter on Volcano Etna, Peloritani Iblei or Nebrodi mountains, and stowed in special stone buildings erected over natural caves. Then in summer, the ice formed during the winter was taken, scratched and covered with flowers or fruit syrups. Of course with the passing time the recipe has been improved. The most classic variants spread throughout the island are lemon, almond and coffee. The nuances of the Sicilian ingredients are important to the flavor of the finished granita. For instance, Sicilian almonds always contain a small percentage of bitter almond, which is crucial to its intense flavor, while Sicilian lemons are a less acidic. Besides traditional flavors, in province of Catania are widely appreciated tastes of pistachio (original Bronte), chocolate and fruit ones such as blacks mulberry, peach, wild strawberry when in season, mandarin, orange, and pineapple. In Messina, in Aeolian Islands and in the rest of the island the choice of flavors and the working process are similar to Catania ones.
One peculiarity we find is in Syracuse – when making almond granita they utilize raw almond which is chopped without removing the brown skin after the peeling. Traditionally in the past, it was customary to eat granita in combination with fresh and crisp bread. From then on, bread has been replaced by typical Sicilian brioche based on egg dough which has a hemispherical shape and a small ball (called tuppu) on the top of it.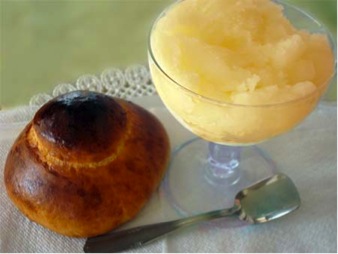 "A granita câ brioscia" (from Sicilian dialect which means granita along with brioche) was and still now is the typical breakfast of Sicilians especially in summer and in coastal areas. As in my case, when I go I often prefer to stop off and to delight my palate with an enjoyable double taste of almond and peach granita, and with a brioche that I find in my favorite bar with a balcony looking over the enchanting view of the sea in Acitrezza. Sometimes I happen to buy it from a traditional street vendor, passing by the beach, whom has a special colored motorcycle car with 3 wheels which is called "Lapa" (Sicilian dialect) and it has been transformed for this purpose.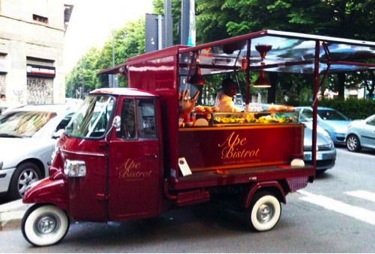 Usually it occurs that I choose lemon taste, as I deem it's just the best they produce respecting the traditional recipe, and even because it recalls many memories about my childhood. Like for instance when my father was driving home after a morning spent at the sea, he loved to share with me a lemon granita (the favorite of him) which he bought from the street vendor he met on the road. Undeniably the best granita possibly to taste is at the bar, but even though it is not as much as equal, we can prepare it at home as it is not complicated but it requires only patience.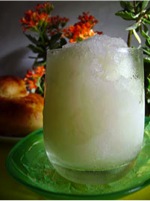 Here are the ingredients for a simple lemon granita:
Natural water (1 litre)
Sugar ( 300 gr)
Lemon Juice or Squeezed Lemon ( ½ litre)
How to prepare:
Need a steel container, since that steel is the material which par excellence prevents from forming the lumps. Pour the water (not cold) into container and the sugar as well, so it can completely dissolve. Then, light the flame and heat over a minimum flame, thus to get a homogeneous mixture. At this point, leave it to cool and only after add the lemon juice and stir thoroughly. Put the container in the freezer and, after about 20 minutes, stir the mixture with a wooden spoon or a simple spoon in order to remove the ice formed on the edges and regularly repeat the process every 10-15 minutes. The goal is to prevent it from becoming a solid block. The creaminess of  Sicilian granita is particularly tied to this very process, which assures to get a product in middle between creamy and slightly granulated, but it's a fine granulate with tiny flakes and no pieces of ice.  Granita is ready no sooner than 4 hours. Then, at least 30 minutes before serving, place it into the refrigerator. Mind that before to taste it, it should be left out for a while and mixed well until it gets a creamy consistency.
Instead of lemon you can also use other types of fruit, according to taste: strawberry, orange, mandarin or dried fruit such as almonds and pistachios. In any case you should macerate the fruit, namely simply sprinkle cut fruit with sugar which draws out some of the moisture and lets the fruit soak in its own juices and then blend it.
Enjoy!
---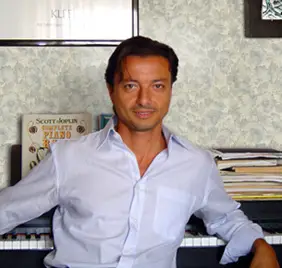 Rosario Scafaro is a guest contributor for Italia Living.