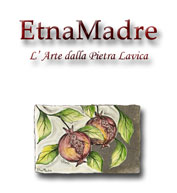 EtnaMadre.com is pleased to announce their official website in order to share these personal collections of  Sicilian ceramic art works on lava stone from Volcano Etna – unique pieces created into medallions, paintings, plates, tiles, and sculptures.
Etnamadre is situated in Acireale, a little ancient town between the slopes of Volcano Etna and the blue of the enchanting sea of Sicily.  It is not a well-known brand, not a company, but EtnaMadre is a mere idea of Rosario Scafaro, a craftsman, which rose from the pleasure and passion for the Sicilian lava stone art and from the willingness to believe in one's own traditions and to make them widely popular.
" Original Hand Made Artistic Objects ", is the concept and formula deeply embedded in EtnaMadre works in order to stand out from an increasing conterfeit world.  Rosario with the help of local craftsmen undertake to research, to create and re-create new shapes, artistic objects and sculptures that adorn our homes – scrupulously respecting the philosophy of colours, atmospheres, and culture of sicilian life.
Each piece is carefully hand made, hand painted with the same process handed down from the most respected of Sicilian artists many years ago – and thus where there is an imperfection that is never a defect, but only a guarantee of the master's craftsmanship and uniqueness.
Rosario invites all the art lovers on the web to visit www.etnamadre.com.