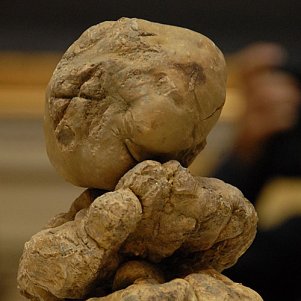 As Italian stock markets are in a disaster, some values in Italy are shooting up. The price of white truffle has doubled to 3,000 euros ($4,100) per kilogram in just a week.
Truffle hunters say the increase is due to low average rainfall in areas where truffle is found, as well as higher demand — particularly from buyers in Asia where truffle tastes have taken off, Italian news agency ANSA reported. The price is now at around 3,000 euros for large truffles and some 2,500 euros per kilogramme for smaller tubers — far higher than last year.
The news came as the town of San Miniato in Tuscany gears up later this month for its white truffle fair — the main marketplace for the delicacy.  The town is famous for being near the spot where the biggest white truffle ever found, weighing in at 2.520 kilograms, was dug up in 1954.
"For the first time we can remember we are pricing truffles on a daily rather than a weekly basis because we cannot guarantee supply, they are that elusive," said Nadia Howell, a director of L'Aquila, a fine foods company which runs whitetruffleauction.com.
For the truffle hunters of Umbria, Piedmont, Emilia Romagna, Tuscany, Lazio, Abruzzo and Molise, the shortage threatens financial hardship. The white truffle season lasts only from October to the end of December. People who have a licence to seek the fungi work long hours to maximize their income, which often sustains them through the following year.