The fifth of Cavalli Caffès offering an elegant atmosphere and refined menu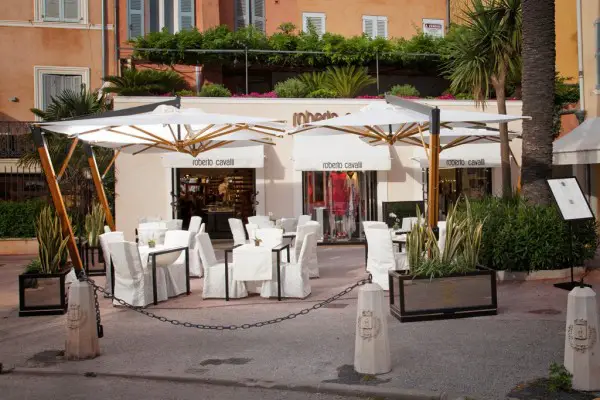 Italian fashion designer Roberto Cavalli continues to expand his brand into new and improved markets. His latest creation is a Cavalli Caffè in Saint-Tropez's Place de La Garonne, adjoining his boutique, themed with his recognizable opulence of zebra and giraffe prints. Serving up breakfast, lunch, and dinner, the venue also features live DJ sets throughout the day and has become a tourist destination for the summer.
The most interesting aspect of this Cavalli Café is the ginormous wisteria tree that goes through the ceiling and onto the terrace.
"In the Seventies, when everything started, incredible women of timeless beauty and femininity made this place on the French Riviera the best location, where the international jet-setters of the era loved spending the holidays," the designer said.
Conceived to stimulate and inspire every moment of the day, the Cavalli Caffè offers an elegant and refined menu. From breakfast to dinner, from lunch to aperitif, from coffee break to after-dinner drinks, the Cavalli Caffè atmosphere enables its clients to savour different moments throughout their day in an intimate and classic setting where the cuisine proposes a wide range of traditional Italian products and flavours.
The Roberto Cavalli Group already directly operates a Cavalli Caffè in Florence, while the other spots in Kuwait City, Beirut and New Delhi are managed through licenses.
For more info and locations visit: www.cavallicaffè.com