A refined and sophisticated fragrance of predominant Italian and Mediterranean ingredients
Montegrappa is proud to announce the latest step in the expansion and diversification of the NeroUno family of products. Montegrappa's NeroUno fragrance for men was launched two weeks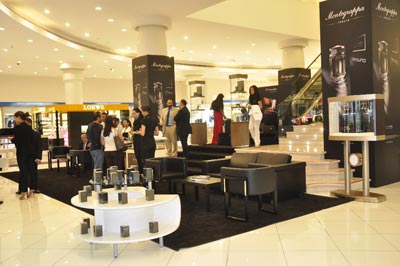 ago with one of Montegrappa's key regional retail partners, Paris Gallery, the leading luxury retailer, in their flagship store, a 10,000 square meter shop in the world's largest and most sophisticated shopping mall, the Dubai Mall in Dubai, UAE.
Paris Gallery operate luxury department stores across the Middle East region with an ultra luxury retail environment and a visionary philosophy based on service and hospitality, and are considered the leading luxury retailer. With major departments for Fragrance and Cosmetics, as well as Watches and Jewellery, Paris Gallery is the perfect partner for Montegrappa to present the NeroUno collection and to launch this first fragrance in the region.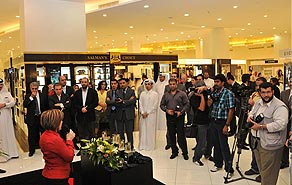 This latest launch in Paris Gallery in Dubai follows previous successful introductions of the Montegrappa brand into Paris Gallery stores across the region, and successful launches of the new fragrance in Qatar and Saudi Arabia. Montegrappa's NeroUno Fragrance is now available in all GCC countries, where sophisticated Italian style and taste is appreciated and sought after. 
Inspiration for the design came directly from the NeroUno product family with its iconic octogonal faceted design, which translates perfectly into the fragrance bottle shape. The cap of the bottle complements the crowns of the pens, the bezels of the watches, and the design of the cufflink collection, truly making Montegrappa's NeroUno product line into a full lifestyle collection. 
For the composition of the 'juice' Montegrappa turned for inspiration to its roots, the Monte Grappa mountain. The NeroUno fragrance for men is based on a citrus and fresh top note, comprising typically Italian ingredients, such as Calabrian lemons, and gentian, a herb predominantly found in the surrounding mountain areas, and particularly prevalent on the slopes and forests of the Monte Grappa. The middle notes are spicy giving a refined and sophisticated fragrance, well balanced out with a heavier bottom note of oils from typically Mediterranean woods, such as Sandalwood and Cedarwood. 
The overall impression from the scent is uplifting and liberating, appropriate for a fragrance that has been inspired by the Italian pride and heroism that the Monte Grappa mountain has come to represent over the last century. Montegrappa has been producing exquisite, hand-crafted works of art at the foot of the Monte Grappa mountain, since the company was founded in 1912, making it Italy's oldest writing instruments manufacturer, this year celebrating its 100th year anniversary. As we embark on the journey for the next 100 years, it is somehow fitting for Montegrappa to venture into new categories and to remind ourselves that with great history, there can be a great future. 
Montegrappa has plans to launch a second NeroUno fragrance, this time a ladies perfume, to complement the gents collection, in the second half of 2012. 
Elmo & Montegrappa
Via Ca' Erizzo 43/45 – 36061 Bassano del Grappa (VI) ITALY
Phone: +39 0424 522232 – Fax: +39 0424 523975
Web: www.montegrappa.com – E-mail: contact@montegrappa.com