Italian luxury niche brand Bois 1920 has launched a new quartet of limited edition fragrances: The Limited Art Collection — Dolce di Giorno, Sensual Tuberose, Relativamente Rosso and Vento nel Vento.
BOIS 1920 is a brand that expresses the Galardi family's passion for the art of perfume making. It all began in 1920 when Guido, the founder, started testing his first formulas, by collecting the Spigo (Tuscany Lavender) that ripens in the fields on the hills around Florence. His research took on different expressive harmonies: essential oils, fragrant solutions and perfumed sachets. Guido dreamt of a shop in Florence where he could createunique fragrances.
History returns. Guido's sensitivity and art were handed down to Enzo, his grandson who, at the age of thirteen began frequenting Piero, a great expert on essences. In 1985 he entered the world of fragrances and turned his passion into a profession. The year is 2005. Enzo, by reinterpreting the original formulas discovers "perfume" in the sense ofartistic expression, his dream becomes true, Guido's emotions and soul materialize into BOIS 1920.
New Limited Edition Art Collection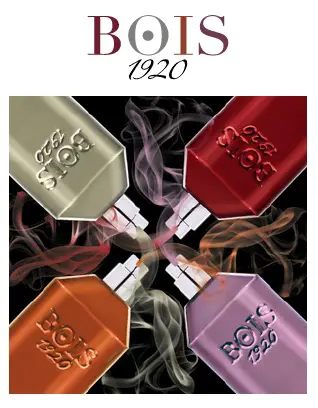 Each bottle of BOIS 1920 evokes a part of the history and lifestyle of the Galardi family, who, since 1920, has made tradition and innovation the cornerstone of its elegant products. In homage to all of those who have chosen BOIS, a series of Limited Edition fragrances has been launched that brings together the traditional uncompromising quality of BOIS, and the exclusiveness of possessing one of the 1920 pieces of each new fragrance. Each Limited Edition comprises a special essence in a numbered and certified bottle that increases its value over time. BOIS 1920 Limited Edition: for those that wish to stand out without excess, and for the other 1919 in the world that think the same way.
Dolce di Giorno — Seductive, mysterious & unmistakable…opens with an extremely fresh & modern top, an encounter between explosive and juicy citrusy notes of Grapefruit & Bergamot, spaced out to sensual & intriguing ones of Cinnamon & Pepper. The essence merges in the innovative heart in which intertwine Thyme, Cardamom, Nargamutta & Prune, with apparently distant perfumes, but creating a memorable alchemy. The dry down is the element that seals & exalts the fragrance, a light and shade of extraordinary woods, dense & deep Patchouli, Cashmere & Gaiac, luminous & elegant Vetiver, Sandalwood & Cedarwood, bound in an embrace of tender Vanilla & virile Labdanum.
Sensual Tuberose — Sensuality & femininity transformed in olfactive creation…the mellow & thrilling notes of Tuberose charm at first sniff, surrounded by sparkling spicy touches of Coriander & byluminous sparkles of Peach. In the heart, a white blossoms bouquet, Jasmine & Orange Blossom, blooms, inebriating. Creamy & tender scents of Coconut & Heliotrope hypnotize. The dry down is daring & voluptuous, an encounter between Sandalwood, Patchouli & Benzoin, laid down on a White Musk bed & enwrapped by the ultra precious Orris.
Relativamente Rosso — The first sniff worms in sinuous & charming, bewitches the mind like an olfactive spell…the intriguing encounter between May Rose & Incense is literally magic, and a dusting of Sugarmakes this elixir irresistible. The heart is enveloping, moreish & sensual, wafts of exotic Everlasting & Davana rise up warmed by smooth touches of Sandalwood. This philtre completes itself in the dry down, where vibrant woods, Vetiver & Patchouli, lose sweetly themselves into the voluptuous embrace of Vanilla & Black Amber.
Vento nel Vento — A memorable & impacting debut; a wrapping swirl of mellow petals of Peony in which explosive spicy notes, Elemi & Pink Pepper insert themselves. The top slips impetuous in the refined heart, an hypnotic vortex of surprising nuances of Incense & Liquorice, on which blows a cloud of White Musk. The seal is given by a dark & hefty dry down, solid woods like Patchouli, Sandalwood & Oud intertwine themselves to liqueur & amber touches of Benzoin and to blackspots of Labdanum.
SPECIAL  OFFER  FROM  ITALIA  LIVING

 
Purchase these fragrances as well as others in the Bois 1920 line, right here on Italia Living with a special offer: www.italialiving.com/shop