When, in about mid-July to the end of August, the Paradise of Rome feels like the lower circles of the Inferno, Romans traditionally either leave town for coastal locations, or – if sequestered in the city – turn to dining under the stars for a meal and a breath of fresh air in these tranquil luxury restaurants.
by Eleonora W. Baldwin
La Pergola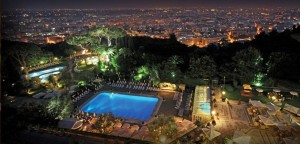 On summer evenings, out on the candlelit terrace, the city twinkles like fallen constellations. The dome of St Peter's seems close enough to touch.
The Pergola's menu changes every month and highlights include Salmon Ravioli filled with caviar and sour cream, Eggplant Purée with Lobster and Tomato, Salmon and Green Rice Croquettes. There is a mouthwatering dessert selection as well as an extensive wine list from all over the world. In such a setting, with such a menu, La Pergola is one of the Rome's greatest dining experiences.
The table is laid with vermeil plates and cutlery. All around, charming art treasures – a rare Aubusson tapestry, Sèvres porcelain, 18th century bronze candelabra, precious imperial furniture and a wonderful collection of hand-blown Emile Gallé glass. In the center of the room is an imposing 17th century Celadron vase adorned every day with a stunning floral composition. Adjoining La Pergola is an exclusive Cigar Lounge where guests can savour a Havana with a vintage liqueur while admiring the Pergola's fine collection of orientalist paintings.
Closed from July 19 to Sept 14, 2009 for re-decoration; and from January 1 to 25, 2010
To avoid disappointment at this very sought-after dining room, reservations are required well in advance. Please contact: LaPergolaReservations.Rome@hilton.com
Via di Alberto Cadlolo, 101
Hotel Cavalieri Hilton
+39 0635092055
Fax +3963509 2165
Le Jardin De Russie
The restaurant is set in a high and airy dining room embraced by French doors that open on to a broad terraced garden. In the summer, the scene moves out of doors on to the jardin which comes right up against the Pincio Hill, in a lushly romantic garden of balustrades and ruins, where cypresses, umbrella pines, rose bushes, magnolia and orange trees are interspersed among gravel paths, and stone staircases climbing to the top of the hill, that ends at the Borghese Gardens.
The feeling here is one of comfort and ease, serene elegance. Table linens and chairs are in soft shades of salmon, garnet, and rose. The gourmet Mediterranean cuisine is a delight. In keeping with the luxury objectives sought here, The Jardin de Russie appointed celebrated Chef Nazzareno Menghini, who places emphasis on using local produce and only the very best Italian ingredients when designing his sumptuous menus.
Via del Babuino 9
Hotel de Russie
+39632888870
Fax +39632888888
HI–Res
The HI–Res, High Restaurant & Terrace lounge on the top floor of the Valadier Hotel, offers an enchanting view of rooftops, domes and monuments of the Eternal City. The contemporary style and relaxing ambiance meet a toothsome range of food alternatives to the traditional cooking. The Tartar Bar, which offers a wide range of vegetable cruditées; guests can instead opt for the Wok Corner if in the mood for light-fusion cuisine; while at the Fry Top counter one can pick the ingredients and the HI–Res chefs will grill them expressly; a feast for the senses that comes complete with a well-stocked cocktail bar.
Via della Fontanella, 15
+3963611998
Fax +3963201558
Romolo nel Giardino della Fornarina
Romolo is a lovely little restaurant hidden away on the back streets of the Trastevere district, near the banks of the Tiber. The lovely courtyard restaurant is housed in a 16th century building and is named after a famous love affair that took place there. It is said that the artist Raphael met Margherita Luti here, a woman who became his model and he fell in love with. Margherita was nicknamed "la Fornarina," being the daughter of a fornaio, baker. The cuisine is typically Roman, focusing on feather-light fried foods, pasta dishes, stewed vegetables, cheeses and white meat entrées. Dining sheltered under the trees in this romantic setting is a true delight.
8 Via di Porta Settimiana
+3965818284
More al fresco dining options include:
Lo Zodiaco
Viale del Parco Mellini 88/92
+39635496744/640
www.zodiacoroma.it
La Limonaia
Villa Torlonia
Via Spallanzani, 1/a
+3964404021
http://www.lalimonaia.eu
Imagò at the Hassler
6th floor – Piazza Trinità dei Monti, 6
+39669934726
Fax +3966789991
http://www.imagorestaurant.com
Minerva
Grand Hotel de La Minerve
Piazza della Minerva, 69
+396695201
http://www.grandhoteldelaminerve.com
Il Giardino dell'Eden
Hotel Eden
Via Ludovisi, 49
+396478 121
Fax +396482 1584
1872.reservations@lemeridien.com
Hotel Forum Rooftop
Via Tor de' Conti, 25-30
+3966792446
Fax +3966786479
http://www.hotelforumrome.com
About the author:
When she's not shooting on location around the world on a film set as script supervisor – or writing a food/travel column – you'll most probably find Eleonora W. Baldwin busy cooking in her Rome kitchen. Author of the blogs Aglio, Olio & Peperoncino and Forchettine – and an incurable wanderlust addict, freelance writer, translator, mother, dreamer.