Tribute to Disney's 100th Anniversary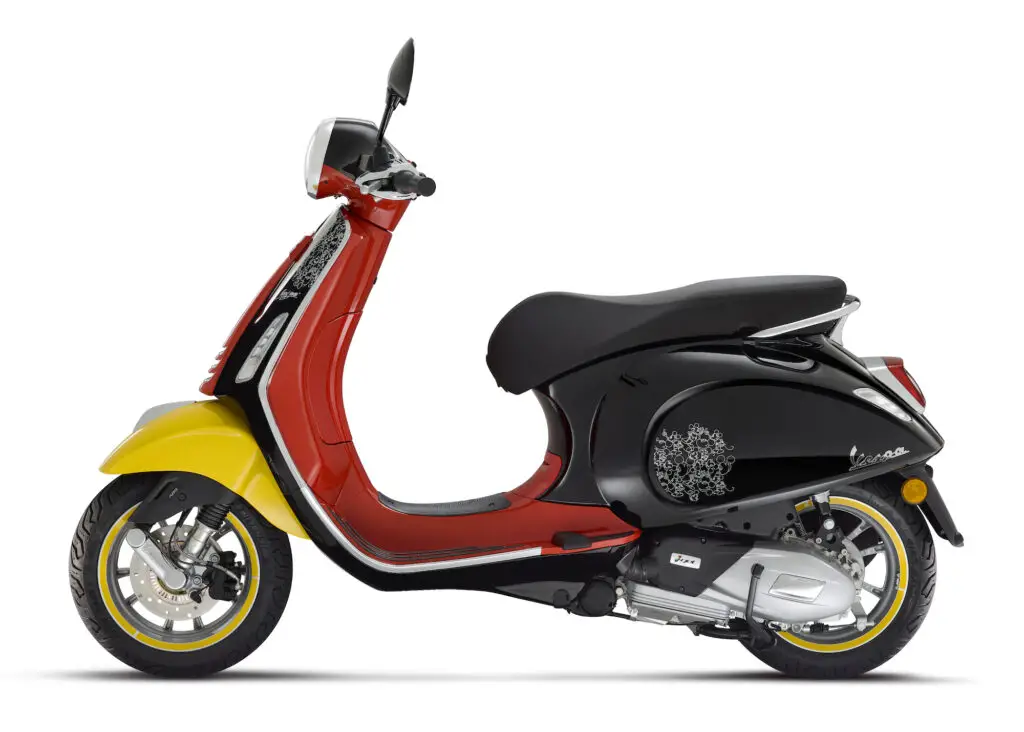 Disney is celebrating its 100th birthday in 2023. In honor, Disney and Vespa have come together for a special, limited edition Disney Mickey Mouse Edition with matching helmet.
This isn't Disney and Vespa's first collaboration, of course. If you've seen the 2021 Disney Pixar film Luca, then you likely recall the prominent roles that Vespa scooters played in that movie. With a plot revolving around the fictional town of Portorosso, which was heavily based on Genoa, Italy.
In 2023, Vespa remains an enduring Italian icon, from Italy to the world just as Mickey Mouse is for Disney. Thus, the Disney Mickey Mouse Edition by Vespa is a design that will grace a limited-edition lineup of Vespa Primavera scooters to bring the two icons together in a rideable form. 
Anyone who's even glanced at a Vespa Primavera in recent time is likely already familiar with those perfectly round mirrors, which many informally referred to as "Mickey Mouse mirrors" even prior to this collaboration. That the rest of the color and graphics scheme should follow suit makes a kind of visual sense here.  
Per the partnership, the company will launch Vespa Primavera 50cc, 125cc, and 150cc models in black, red, white, and yellow color combinations, representing Mickey Mouse. 
"Dreams allow us to look to the future with optimism, even in complex times such as these. A timeless icon like Vespa could not fail to celebrate, on this very special occasion of Disney's 100th anniversary, an equally everlasting icon like Mickey Mouse, with a tribute to creativity, imagination, light-heartedness, and fun – the very values that have always anchored Vespa," said Michele Colaninno, Chief Executive of global strategy, product, marketing, and innovation of Piaggio.
"Today, as then. This collaboration between Vespa and Disney represents the celebration of two historic companies that have a common dream: to allow everyone to express their imagination freely," added Colaninno.
Media sourced from Piaggio's recent press release.