A benefit in Red Bank, NJ for the Ashley Lauren Foundation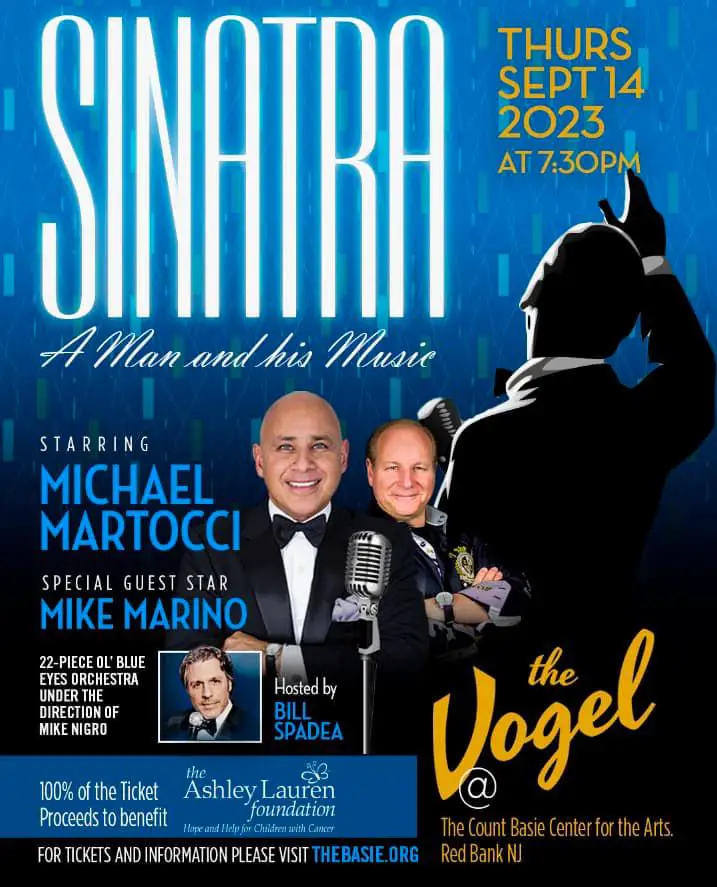 Sinatra: A Man and His Music is a multi-media musical tribute that celebrates Frank Sinatra's career. Michael Martocci will perform some of the original arrangements by Quincy Jones from the legendary album, Sinatra at the Sands with Count Basie & his Orchestra. The show will also feature the 22 piece Ol' Blue Eyes Orchestra.
The evening will include Special Guest Star Comedian, Mike Marino, and will be hosted By Bill Spadea.
This will be an entertaining and fun evening of great music and laughs, all for a very serious cause.
100% of the ticket proceeds to benefit The Ashley Lauren Foundation www.ashleylaurenfoundation.org


Show Info:
SEPT 14 • Doors Open 6:30PM • SHOWTIME 7:30PM
The Vogel • Basie Center Campus • 99 Monmouth Street, Red Bank
For tickets visit: https://thebasie.org/events/sinatra-a-man-and-his-music-2/
Michael Martocci
Michael is a resident of Morganville, New Jersey and is one of the best Sinatra Tribute Artists in the business today. So much that Mr. Sinatra's manager Eliot Weisman, has boasted that, "Michael is the closest you will ever come to reliving the Sinatra experience, backed by a 22-piece orchestra playing all the original Sinatra orchestrations".
Michael lets this audience know that he is NOT a SINATRA IMPERSONATOR. You would have to be crazy to think that anyone can be Frank Sinatra. He simply does these concerts to keep the music alive and make sure his Grandkids, Grandkids will know the name and the music of Frank Sinatra. Michael was the opening act for comic legend Don Rickles for many years and has performed in Atlantic City, Las Vegas and all across America to standing ovations. Fans who have seen Michael before give him the best compliment. You close your eyes and you think it's Frank Sinatra.
Mike Marino
Mike Marino – affectionately known to millions of his fans worldwide as New Jersey's Bad Boy – is one of the most loved comedians of our time. He has performed in every major comedy club, theatre, casino and event center from New York to Los Angeles and around the world. Mike has also shared the stage with some of the biggest names in the business.
Bill Spadea
Bill Spadea is an entrepreneur, media personality, father, husband and vocal advocate for working and middle class families. Spadea is the top morning drive talk show host in New Jersey on 101.5 FM. He's done a little bit of everything over his 25-plus year career, serving as a political strategist, analyst, candidate for office and business executive. He also regularly hosts music festivals and comedy shows in the New York/New Jersey area.