With a month long celebration of Christmas in Italy, comes wonderful smells and flavors of the season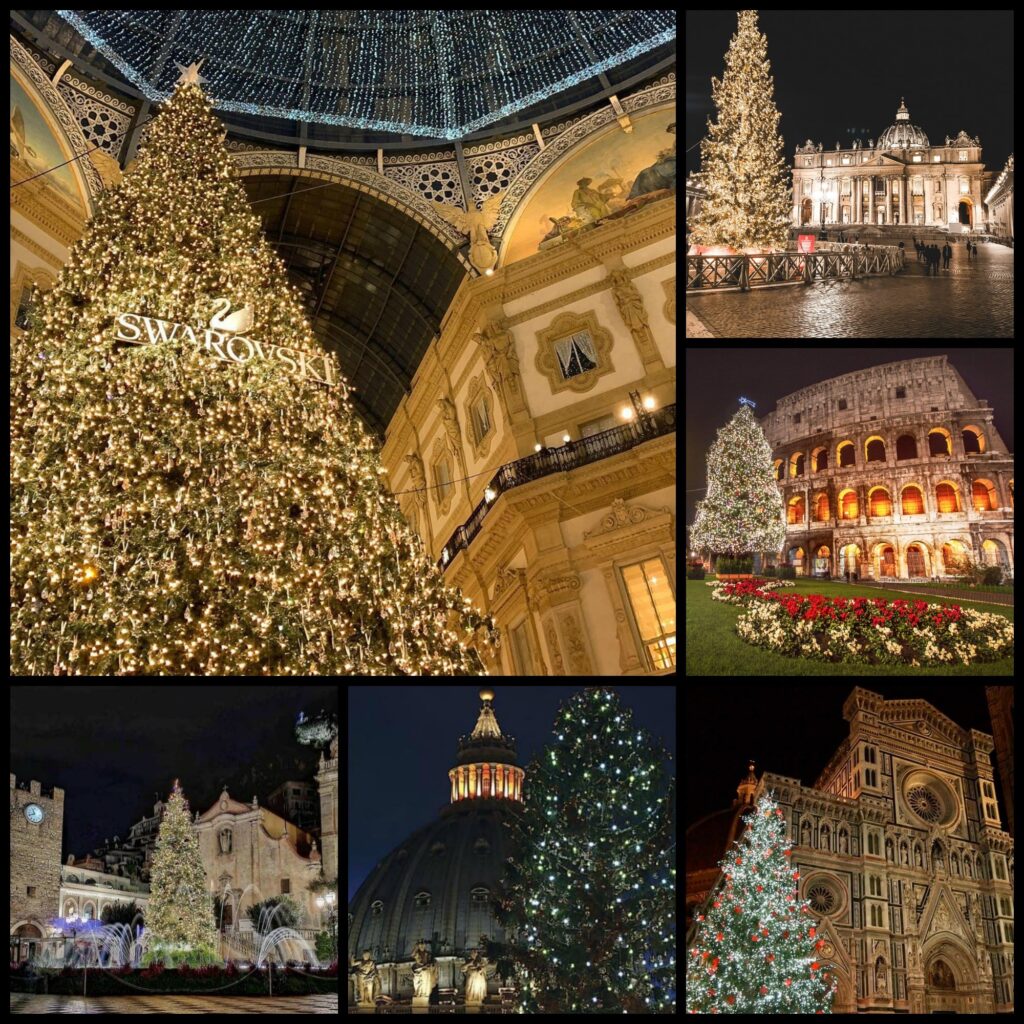 The Christmas and New Year's holidays in Italy are marked with the spirit of celebration and reverence for which Italians are famous. Since 98% of Italians are Catholic, as the holidays approach, it may seem like the entire country is going through the same motions of eager preparation. Yet, although rituals may be similar throughout the country, they vary from region to region as well as house to house. Food plays a central role in each.
The Christmas season begins with the national holiday on December 8th, marking the Feast of the Immaculate Conception. Churches all over the country unveil their presepi, elaborate nativity scenes. Hundreds of presepi can be seen in Rome's Piazza del Popolo and a life-size nativity scene resides for the season in St. Peter's Square.
On the streets of Rome, one of the most festive places to experience Italian Christmas traditions, zampognari, shepherds from the Abruzzo region, dress in native costumes and play Christmas tunes on their bagpipes. The Piazza Navona transforms into a giant Christmas fair with booths selling candy, toys, gifts and roasted nuts. Lights and music flow through the square.
Twinkling lights, red ribbons, Christmas trees (Italians started putting them up after World War II) and the likeness of Babbo Natale (Father Christmas) begin to appear in storefronts and homes throughout Italy.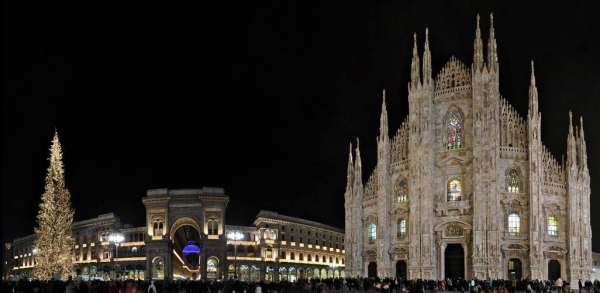 Christmas Eve
Italians eat very little on the day of Christmas Eve. They are preparing their stomachs for the massive meal to be consumed that night.
The meal centers on fish, in the Catholic tradition to abstain from meat the night before a major holiday. La Vigilia di Natale (the vigil) is also called The Feast of the Seven Fishes. The origin of the "seven" is somewhat of a mystery. Some say it comes from the number of sacraments; others say it relates to the phase of the moon (seven days). Some families even serve 13 fish dishes, one for Jesus and one for each of the 12 apostles.
Popular offerings include linguini with clam sauce, spaghetti with mussels, grilled lobster, salt cod and shrimp. Romans traditionally eat capitone, a long, fat female eel that is grilled and seasoned.
Families attend midnight mass together and return home for panettone (the dome-shaped fruit cake that originated in Milan) and prosecco (sparkling wine).
Buon Natale!
Christmas Day
While Italian parents often tell their children that Gesu Bambino (Baby Jesus) brought them presents overnight, the real gift-giving takes place on January 6th, the Epiphany.
Many Italians watch the Pope's Christmas message broadcast live at noon as they prepare yet another feast. They eat tacchino (turkey), which arrived in Europe in the mid-16th century, or fagiano (pheasant). Dessert consists of countless cakes and cookies such as panettone and pandoro (a light, golden cake from Verona) and rococco (crisp almond rings).
There's no problem eating to excess on Christmas, because the next day is yet another holiday.
St. Stephen's Day
As in many other European countries, La Festa di Santo Stefano, the day marking the announcement of the birth of Jesus and the arrival of the Three Wise Men, is an official holiday in Italy. Almost all businesses and most restaurants (even ones that were open on Christmas) are closed. For tourists in the big cities, a few museums remain open.
New Year's Eve
There's an Italian expression that sums up this holiday – "Natale con I tuoi, Capodanno con chi vuoi" – Christmas with the family, New Year's with whom you want. Since many Italian companies are closed between Christmas and New Year's, this is an opportunity for Italians to travel or visit friends to mark the end of the year.
The evening meal may include cotecchino con lenticchie, sausage and lentils, whose round shapes symbolize coins, promising riches for the year ahead. Another traditional dish is zampone, stuffed pig's foot. The meal may end with struffoli (Neapolitan honey balls) which represent sweet promises for the new year.
Italians love fireworks and many cities have displays at midnight. There's also an Italian tradition of throwing old dishes and pots out windows to clean out the old and prepare for the new.
Epiphany
For Italians, La Festa dell'Epifania on January 6th is as significant a holiday as Christmas Day; especially for Italian children! According to the Italian legend, La Befana, a witch-like woman riding on a broom, refused to join the Wise Men on their journey to see the baby Jesus. When she regrets her decision, she sets out to bring gifts to the Child but never finds him. Instead, she leaves gifts for other children. Italian children leave out their shoes or put up stockings for the Befana to fill on January 6th.
In honor of the Three Wise Men, Italians go to church and spend the day with family.
Following the Epiphany, the long, festive Italian holiday season comes to a close.