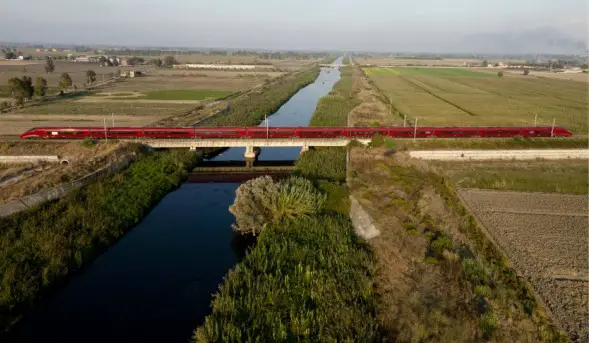 APRIL 2012 –
Italy's burgundy red Ferrari on rails is in service. The "Italo" will travel at speeds of up to 300 kilometers per hour between Milan, Rome and Naples. The new high-speed train is more environmentally friendly and also cheaper than its competitors.
The dark-red 656 foot bullet-shaped train — named "Italo" — is Italy's first private high-speed train. Launched by Ferrari head Luca di Montezemolo's company NTV, it boasts sleek interiors styled by celebrated design house Italdesign Giugiaro.
The trains have gold edging, panoramic windows, leather seats and wider carriages than the classic French TGV trains. They offer three different coach classes and travel at a top speed of 224 miles per hour.
The train features free WiFi and also offers UMTS capacity for mobile phones. Fiberglass cables connect each car with the satellite antenna, which ensures a clear signal for communications, even as the train passes through tunnels. The Italo even features its own Internet portal, replete with information about museums, places of interest and shopping destinations at the train's next destination.
In the last car of the train, called the "Club" section on the Italo, first-class customers sit in an area with wide seats and lots of legroom. Two compartments are also offered for families who want to travel together or where business people can hold meetings. In "Club" class, coffee is served and newspapers are distributed. Each seat has a touch screen with which the passenger can watch live television or a selection of films and three-course meals are also available for purchase, including in the "Prima" class, which is the train's business class offering. 
France's national rail company SNCF owns a 20-percent stake in NTV, which is led by a group of Italian businessmen including Montezemolo, NTV's president, and Diego Della Valle, the head of luxury shoemaker Tod's.
The private train is also easier on the wallet: A single trip from Naples to Rome can be as inexpensive as €20. A trip on the high-speed offering by Trenitalia, Italy's national railway, is slightly slower than the Italo on this particular stretch and costs nearly double that price.
Seven trains have already been produced and 25 are expected to be built by autumn 2012. They will be deployed on Italy's most important north-south train line running between Milan, Bologna, Florence, Rome and Naples. Some trains will also travel to Venice in the north and Salerno in the south. In total, the company plans to offer 50 trips a day, attracting between 8 million and 9 million passengers a year and breaking even by 2014.
For more info visit: www.ntvspa.it/en/index.html