Enjoy all the benefits of Italy's unique, well-developed railway system

Italy is a beautiful country with countless amounts of breathtaking landscapes: from the jaw-dropping mountains of the North to the rolling hills of Tuscany, the cupola of Rome, all the way down to the volcano Vesuvio, towering over the sea in Naples. And naturally, everyone wants to see it all!
The hassle of taking a 30-minute plane ride from region to region with luggage restrictions, pricey tickets, and the pains of the airport can get old… fast. In Italy, however, taking a train is a must! Your travel headaches will disappear: less expensive tickets, luggage freedom, and more time to explore the city. Adults and young children alike, will get more enjoyment out of riding the rails along Italy's breathtaking scenery. For all this and more, taking a train in Italy is a no-brainer.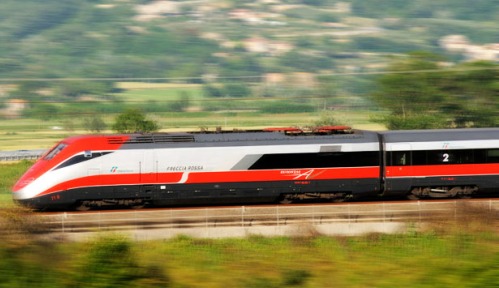 Italy has a unique, well-developed railway system that allows any passenger to travel from the northern part of Italy all the way to the southern tip in a mere 12 hours. Frecce, the famous high-velocity trains, offer awe-inspiring scenery and luxury amenities that make your travel a breeze.
In addition, traveling Italy by train means an extreme culinary experience which you can indulge in at every stop. What's better than tasting delicious traditional dishes and wines before hopping to your next destination?