Horse Polo, considered to be the sport of kings and the upper class, but these days only a strong desire to play is needed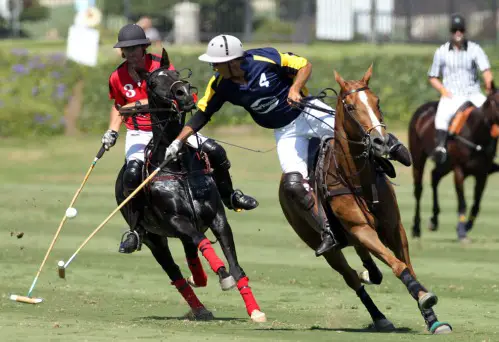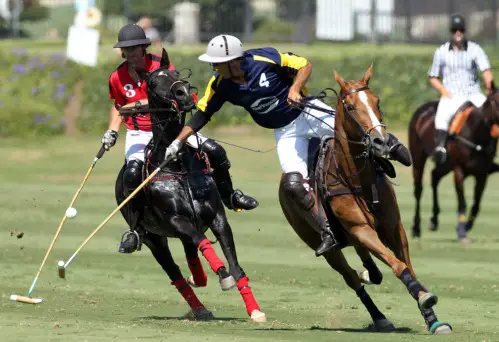 Polo, "The Kings' sport", so it is often referred to, is enjoyed around the world and is one of the fastest played team sports that combines one's passion for horses. It is played on a field that is the equivalent of nine American football fields, making it also the largest field in organized sport. A single polo team is made up of four players and about 20 horses. The objective of the game is easier said than done – score goals by knocking a small white solid high-impact plastic ball into the opponent's goal using a long-handled mallet while riding a horse. When one throws in the complexities of being rammed by opponents, the movements and temperaments of the horse, and the bouncing of the ball itself, (among many other issues faced during the match), polo becomes a rough and hard sport that requires both precision and tactics as well as gladiatorial combativeness.
The sport has grown from a long history of ancient and medieval origins, and today modern polo is officially played by seventy-seven countries, including sixteen professionally.
Polo is a popular sport in Italy, where the polo clubs affiliated to FISE, Federazione Italiana Sport Equestri (Italian Federation Equestrian Sports), are about fifteen. However, it is also a difficult sport to play in Italy as apposed to other countries such as England or the United States, where polo is quite highly developed and practiced from an early age. Italy doesn't measure up with the infrastructure and there are also very few young players.
Italy does offer some variety of the sport to players and spectators alike. The soft carpet of snow of winter near The Dolomites is transformed into playing fields for the Cortina Winter Polo, a tournament which in terms of charm and spectacle, has no equal in the world. And in the spring, Forte dei Marmi plays host to the the exclusive Beach Polo tournament in Tuscany.
Polo is one of the hardest sports to learn. It is required to go to a polo school where an instructor will lead you through learning the basics of this complex game. First of all, you will learn horse-riding specific for polo, that, besides the reins in the left hand and the stick in the right hand – also for left-handed people -,  it involves managing your balance in a slightly different way from other equestrian sports. You must also pass a rigorous exam to ensure the best possible safety of players and horses, while polo is considered one of the most dangerous and aggressive sports to play.
While still considered a luxury sport, the affordability of playing polo to those with a strong desire has come more within reach of many. However, outstanding polo horses are hard to find and horribly expensive. Each world-class rider may have dozens, the best of which may cost more than $200,000 each.
Although it was, and it will always be, a niche sport for few people, polo has many new members every year. People are attracted from other equestrian sports who want to try something new, people who were fascinated by it when seeing others playing, people looking for a lifestyle which is unique, exciting and challenging. The path to becoming a professional in polo is, in fact, a path lasting a whole life; the players reaching high game levels are very few, but maybe it is exactly its difficulty and challenge which makes it so attractive. And with the sport of polo, this game is a perfect metaphor for life: it is not the destination that counts but the path.