Review by Regina LaPoint
Life, Well Lived. Inspiration From Tuscany to Beautify, and Simplify, Your Life. 
"When I mention Tuscany to outsiders, the usual response is a wistful sigh. And when I add sheepishly that we live out in the hills with vineyards and olives, the common rejoinder is, "You're living my dream." ~ Feranc Máté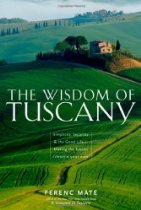 If you missed this delightful read when it was initially released in 2009, make it a point to pick up Ferenc Máté's The Wisdom of Tuscany, Simplicity, Security and the Good Life — Making the Tuscan Lifestyle Your Own. Written with warmth and candor, Mr. Máté's thoughtful memoir is an ideal antidote for the ravages inflicted upon one's psyche by the frenetic pace of life as we know it. Contrasting the experience of his lifestyles in the cities of New York, Paris and Rome with the sweet, sauntering existence he shares with his wife and family "…seven twisting miles from Montalcino," Mr. Máté does a masterful job of vividly illustrating the interconnectedness the Tuscan lifestyle brings to family, friends, traditions, even the changing seasons.
I was drawn to this wonderful dream of a book from the moment my eyes found its cover for all the reasons books like these appeal to us. In The Wisdom of Tuscany, Mr. Máté's lush reflections and straight-forward exposition amount to a clarion 'how-to' on the better way to live one's life, preferably in Italy, by one who calls the place so yearned for by so many, home.
"The wisest thing Tuscany has taught me is to be content, even thrilled, with the basic things in life." ~ Feranc Máté
Perhaps it is this epoch in my life I find myself facing down, this mid-life decade I've arrived at after years of chasing deadlines and commuter trains, planes and automobiles, home, but these days I'm more interested in relishing my peace of mind than my piece of the pie (though I will never stop pursuing the perfect Panna Cotta). In the end, The Wisdom of Tuscany inspires by describing a better way to simply 'be' rather than 'do.' A must-read, allow yourself to put down your day planner, pick up The Wisdom of Tuscany, preferably with a Bellini in-hand, and savor the story of life well- lived.
Mr. Máté has written 16 books translated into 12 languages, The Wisdsom of Tuscany; Simplicity, Security and the Good Life — Making the Tuscan Lifestyle Your Own, A Vineyard in Tuscany, and The Hills of Tuscany, among these.
Copyright 2009 Ferenc Máté
Memoir/Travel
Hardcover/Paperback
November 2009/December 2010
W.W. Norton & Company
ISBN 978-0920256-68-8
Bellini Recipe
3 ounces prosecco sparkling wine
2 ounces fresh peach puree
Mix, serve in champagne flute, and sip with delight.
---
Regina LaPoint is freelance writer, and an Italian-American in love with her heritage.  You may contact her at: writeon212@icloud.com