Epic Family Saga and Murder Mystery Explores the Italian American Immigrant Experience and Late 20th Century Cultural Tensions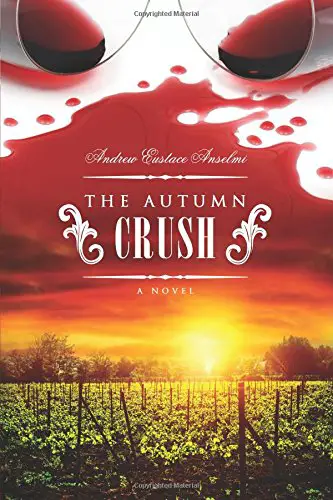 Guy Bennett was one of America's post-World War II success stories. Born of Italian immigrants during the Depression, he became a captain of industry, with a skyscraper in New York City and a son in the United States Senate. The applause mutes and friends grow scarce, however, when Guy stands before the court in 1989 accused of the double murder of his business partner, Vito Petrozzini, and Petrozzini's wife. District Attorney Thomas Straid, still licking his wounds from his senatorial defeat to Guy's son, believes he has all the evidence that he needs to throw away the key on Guy. The defense spans the globe and reaches back generations in search of an acquittal, unearthing a family secret that reveals the cold and devastating truth. In the end, a diminished yet renewed Bennett family gathers for their annual rite of making wine, which they call The Autumn Crush.
Reviews:
"For his debut, Anselmi has written an ambitious and downright old-fashioned novel." —Kirkus Reviews
"In a dramatic novel exploring the cost of assimilation … Anselmi examines grand themes of family, loyalty, wealth, and devotion in a promising plot that reveals the hardships and triumphs of twentieth-century immigrants." —Clarion Review
"An epic story of pursuing the great American dream … Rich character development and lots of surprises kept me flipping the pages as fast as my eyes could read them." —Luxury Reading
"Anselmi's ongoing commentary on racism … may make readers cringe, but it's a realistic reflection of multicultural America." —BlueInk Reviews
About the Author:
Andrew Eustace Anselmi was born in Livingston, New Jersey in 1965 to a household rooted in first generation Italian-American ways. He has been an attorney in private practice for twenty five years, during which time he has received extensive praise for his work in complex litigation and recognized for his charity. Drawing upon his upbringing, career, and experiences as a husband and father, he has become a novelist. His current project is a trilogy tracking a twentieth century New American family, the Bennetts, through the cultural conflicts and hedonism of the 1980s and 90s. Andrew currently lives in Chester, New Jersey.
Purchase the book from the Italia Living Amazon Store: The Autumn Crush