by Kim Yeager –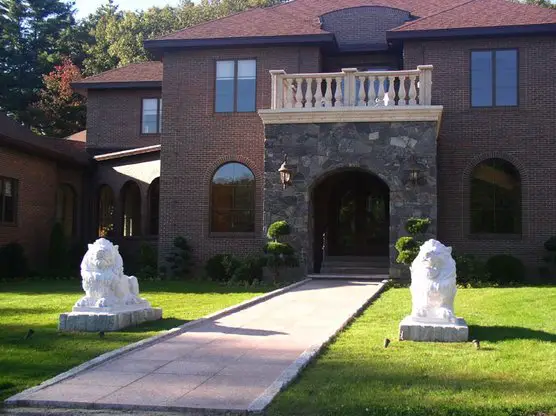 Stacey and Ralph Sevinor created a piece of Italy for themselves in the rolling hills north of Boston, Mass. The owners of Church Hill Construction pay homage to the European lifestyle through their spacious home, a French Country-style chateau set high on 10 acres of rolling grassland, tucked among a countryside dotted with New England style saltboxes.
But the real euro style is found inside their Boston-area home, where Murano glass, Sicis tile and furniture handcrafted by small, family-owned Italian artisans, fill its rooms.
Stacey Sevinor said they originally built their 12,000-square-foot home as a model for their construction business and furnishing it was a daunting task. That is, she said, until she discovered Italybyweb.com, which specializes in quality, affordable furnishings, 100-percent made by Italian artisans.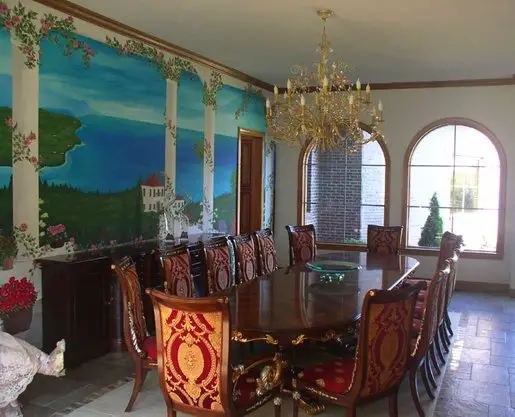 "I was searching high and low for a 13-foot table without any leaves. I found the web site, found the table and fell in love with it!" she laughed. "But I wasn't sure about buying a table on the Internet!" Sevinor said her initial hesitation fell away after talking by phone with Robert, manager of the business. "I hate it when you sit in a chair and it cuts you under the leg. Robert said, 'If you're not happy and they are not comfortable, we'll take them back.' They've been just great to work with. And my set is absolutely gorgeous!"
The Sevinors loved their model home and its furnishings so well they now live in it. They bought a gilded formal dining table, 14 classically styled formal dining chairs and the classic Italian buffet; they are considering an elegant cocktail cart as they continue to shape their living spaces and grounds to reflect an Italian aesthetic. Italy by Web offers Italian furniture options for all rooms the home, from living to dining, bedroom to office.

Italybyweb.com was founded by an Italian American who loved to purchase furniture on his frequent trips to Naples to visit family and friends. His efforts to economize the shipping process by grouping larger quantities of furniture grew into the business that the Kelens operate today. In addition to the web business, there is a brick-and-mortar showroom in Minneapolis, Minn. Browsers and buyers alike can visit to see firsthand the quality of the wood and stone pieces — classic and contemporary — that the business imports directly from second- and third-generation manufacturers in Italy. Since virtually all pieces are custom-made, customers also have their choice of finishes, size and fabric.
The Kelens began their love affair with handcrafted furniture on their honeymoon, where they admired the authentic pieces they saw being turned out in small Italian workshops by artisans plying trades handed down from one family member to the next. Their goal is to provide great quality, service and value. Stacey Sevinor says her family has received all three, many times over.
"I had gone to all the furniture stores in my area from the top of the line to the worst, and I didn't want anything that had a leaf in it. An interior designer at a top store told me I should buy two tables and put that together. Another store told me I could have one made for $150,000! So I googled '13-foot table' and Italy by Web popped up. Within a week I had material samples to chose from," she said. "It was delivered with white glove service; the guy was great!"
Another feature Sevinor loves: the "memory" foam on the seats of her dining room chairs. "My husband was entertaining Honeywell executives and it was the first time he had sat in the dining room chairs. He says, 'These chairs are so hard.' I said 'Right, they are, wait two minutes!' Your body just sinks in because of the memory foam. It's wonderful! No one left the dining room all night!"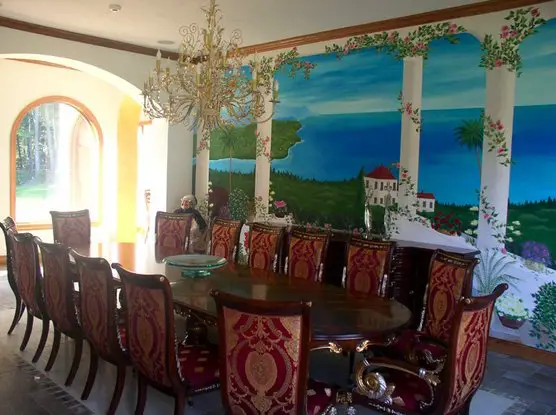 A wall mural of an Italian scene provides a backdrop to the dining table, which Sevinor proclaims "Mouth-watering. Breathtaking! When people walk into my dining room, their jaws drop!" But she also points out the set's utility, noting that the Versace fabric on the dining chairs is stain-resistant. The Sevinors are frequent entertainers and open the home they share with their 7-year-old Doberman, Simone, for fund-raising parties.
For Sevinor, who was first introduced to Ralph by friends at Donatello's restaurant in Saugus, Mass., all things Italian are worthy of study. It flavors her lifestyle, from the food she loves to cook ("Always an Italian Christmas Eve! Linguine with seafood, and a great marinara!) to the furniture she and her husband choose for their home.
Her recommendations? Her recipe for Linguine with Seafood, below; and for Italian furniture, Italy by Web!
---
STACEY SEVINOR'S LINGUINE WITH SEAFOOD – Serves 4
Olive oil
1 heaping T of crushed fresh garlic
2 cans of pureed tomatoes
1 t basil
1 t oregano
1 lb. shrimp, cleaned and deveined
1/2 lb. scallops
1 lb. mussels in shells, scrubbed clean
2 lobsters in shells, cut into pieces, shells left on
1 T sugar
1 1/2 lb. linguine
White foam from pasta water
Line the bottom of a 10-quart pan with olive oil.
Saute the garlic in the oil until soft. Add the tomatoes, seasonings and sugar and bring to a simmer. Add seafood. Cook until mussel shells open and lobster meat is done and the shells have flavored the sauce. Remove seafood and discard shells; return seafood to simmering sauce.
While sauce is simmering, bring water to boil for the linguine. Skim some of the foam from the water as the linguine cooks to flavor the sauce.
When the pasta is finished, drain and serve mounded with sauce.
Mangia!