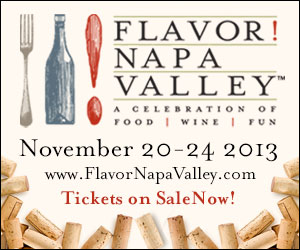 Flavor! Napa Valley, "Celebration of Wine, Food & Fun", on its third year this annual event is and amazing opportunity to taste the best Napa Valley has to offer. Well crafted wines paired with delightful food from the best restaurants and food artisans from all over the Napa Valley.
The five day festival held from November 20-24, 2013, is a celebration of fine cuisine and exceptional wines from America's world-destination wine region. Featuring over 50 celebrated chefs including renowned Napa Valley chefs and The Culinary Institute of America (CIA) alumni such as Michael Chiarello, Todd English, Larry Forgione, Christopher Kostow, Roy Choi, Masaharu Morimoto and Cindy Pawlcyn. Wine experts and sommeliers include Master Sommelier Andrea Robinson, Alder Yarrow, Karen Macneil, Ashley Hepworth and more.
Esquire Magazine recently announced its list for America's Best Restaurants for 2013. Flavor! Napa Valley expert Michael Chiarello has been named "Chef of the Year" for his latest restaurant, Coqueta.
Flavor! Napa Valley tastings, seminars, meals and workshops will be held at various venues through the Napa Valley, including The Culinary Institute of America (CIA) at Greystone, The Silverado Resort and Spa, The Meritage Resort and Spa, and over 15 prestigious Napa Valley wineries and restaurants. The main event will be The Appellation Trail: Tasting Napa Valley, at The Culinary Institute on Friday November 22, 2013 from 6:00 to 9:00 p.m.
Net proceeds from the event support programs and scholarships at The Culinary Institute of America's Greystone Campus in St. Helena, CA. The event is hosted by founding sponsors Silverado Resort and Spa and Dolce Hotels in partnership with VisitNapaValley.com, The Culinary Institute of America at Greystone, and the Napa Valley Vintners, and it is produced by Karlitz & Company.
For more info and the complete calendar of events, visit: http://flavornapavalley.com