Italians celebrate life among great company, good food and fine wine. Tim Mondavi's quest to "enhance the celebration of life through Continuum", has certainly succeeded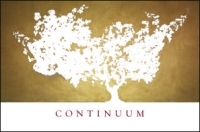 Continuum, the name of the single wine produced by the partnership of Tim and Marcia Mondavi, their families, and Margrit Mondavi. Robert Mondavi had the opportunity to experience and be a part of Continuum before his passing in May 2008.
"With our new wine, we celebrate the ongoing legacy of my family's long and proud history in Napa Valley. Our goal remains to produce wines recognized among the finest in the world. With Continuum, we carry on our belief that wine is integral to the ongoing celebration of the good life," Tim Mondavi says.
Continuum began with 1500 cases of the 2005 vintage, and 1750 cases in the just released 2006 vintage. The 59% Cabernet Sauvignon, 25% Cabernet Franc and 16% Petit Verdot blend comes from vineyards in both Oakville and Stag's Leap. The switch from Oakville bottling to a Pritchard Hill bottling will begin in either the 2007 or 2008 vintage, according to Carissa Mondavi, Tim's daughter and Continuum project manager.
Some thoughts…
I've never been more excited and impatient waiting for a wine delivery as I was with this. I remember very well experiencing the great pleasure I had when I received my first bottles of the Continuum 2006 vintage to my door. This was just delectable all around enjoyment from the moment the weight of the bottle was in my hand – feeling and expecting satisfaction while admiring the the visual artistic expression on the label. There is rare talk of how meaningful a wine label is – but here, it adds so much value, meaning and enjoyment. "Light of the Vine" is a painting by Chiara Mondavi, Tim's daughter, which she created for Continuum. A captivating shadow painting of an old Cabernet Franc vine, planted by her father Tim 25 years previously, captured beautifully at sunset.
When I finally poured a glass of this deep ruby red vino, I soon realized there was nothing confusing here on the nose or pallet, and that's great. They certainly have perfected what is present. Dark chocolate, espresso, ripe currant, blackberry, elegant and extremely smooth.
Continuum is a wine that will make a great meal fabulous, and an average meal so much better. And with the smells and flavors present in this bottle – this wine alone as an after dinner or late evening glass is nothing less than pure enjoyment.
I've greatly enjoyed a few bottles of 2006 among family and friends already – so hard to keep from opening the one's I still have left, but also anxious to try the 2007 vintage and many years beyond.
This is special occasion wine, and it very well should be. While the price tag may not make for frequent purchasing at about $140. usd, treating yourself to a taste of this latest bottled history of the Mondavi family will have you satisfyingly saying… ah yes, this is fine living. A unique wine, an artistic wine, and certainly one of the very best in the world. As with mine, your expectations will not be disappointed.
Visit Continuum online to learn more and view their fascinating new website.
Also visit the website of Chiara Mondavi to see more of her captivating works of art.
~Richard J. Michelli, Italia Living