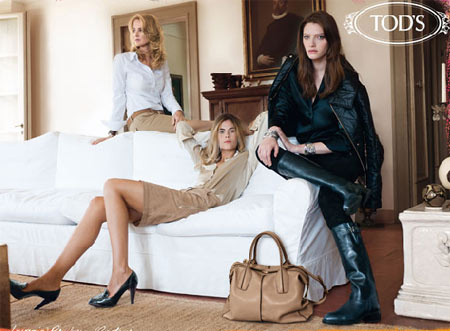 Milan, November 11, 2009-
Italian luxury shoe and bag maker Tod's SpA (TOD.MI) reported a flat core profit for the first nine months of the year as its sales edged up.
Tod's, for whom Hollywood actress Gwyneth Paltrow has modeled, said revenues rose 1.8 percent to 559.4 million euros ($838.1 million).
Core profit or earnings before interest, tax, depreciation and amortisation (EBITDA) was 129.3 million euros, up 0.4 percent.
Tod's, alongside France's Hermes (HRMS.PA) and Louis Vuitton (LVMH.PA), is among few fashion and leather goods brands to show some resistance to the luxury spending slump, the most severe in a decade.
Chairman and Chief Executive Diego Della Valle said last week Tod's could post full-year results that are above market expectations if the Christmas period goes well.
"I am confident that if things continue in this way, we will close an optimal 2009," Della Valle said in a statement on Wednesday 11 November. Tod's said shoe sales rose 5.8 percent to 395.8 million euros. Leather goods and accessories sales fell 11.4 percent to 85.8 million euros while clothes sales fell 1 percent to 77.3 million euros.
Sales in Europe — excluding Italy — and north America fell, but they rose in Italy and Asia and the rest of the world.
Tod's shares ended up 0.14 percent at 449.99 euros before the release of the results.
Source: Reuters