Enjoy luxury, comfort and elegance, while surrounded by stunning landscapes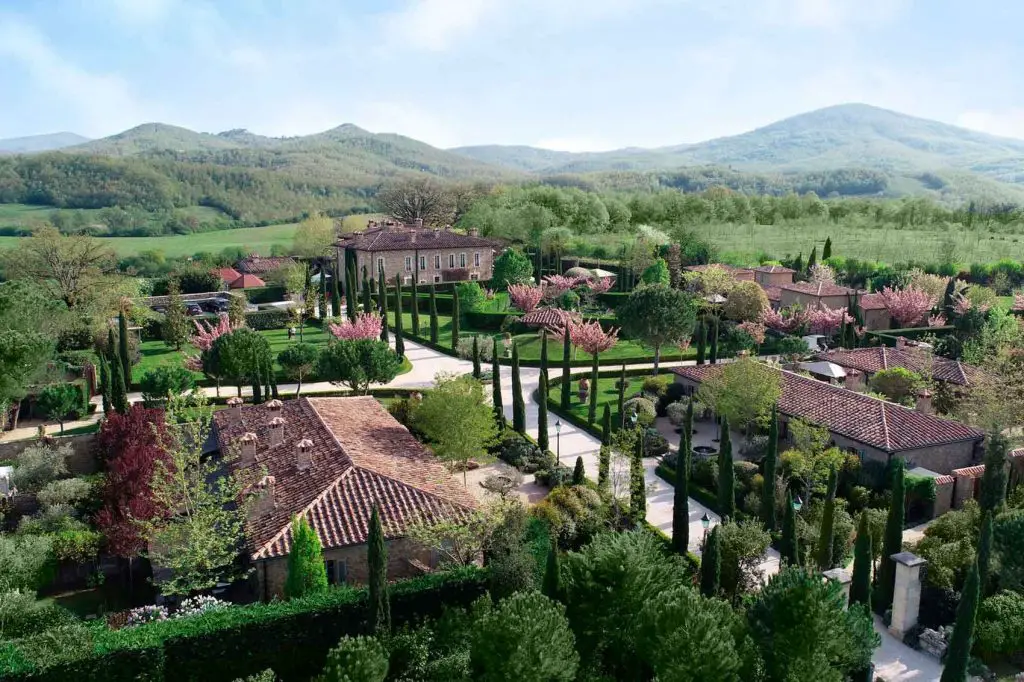 Tuscany's gently rolling hills and scenery are one of the most picturesque rural landscapes in the world, and this charming region midway down the Italian peninsula is one of Italy's top vacation destinations. If you love wine, you are going to be very busy in Tuscany. Many towns and vineyards are known for the quality of their wine, like Brunello di Montalcino, Chianti and Montepulciano, just to mention a few.
Tuscany's attractions also include historic cities and Renaissance art, medieval villages, castle ruins and beautiful countryside. On the slopes of the hills stretch vineyards and olive groves, which have given Tuscany its name for the quality of olive oil and wines.
The Tuscan countryside is famous throughout the world and how better to enjoy it than to get into it! One of the best ways to enjoy the Tuscan landscape is to spend the night surrounded by it, staying in an exquisitely stylish Tuscan villa immersed in nature.
Close your eyes and take a deep breathe. Imagine the fragrance of fresh-cut herbs and flowers floating on a summer breeze. Picture a divine garden filled with gorgeous floral arrangements, fruit orchards and vegetable and herb gardens. Think of frescoed walls, hand-carved beds, Italian antiques and ornate chandeliers dripping with crystals. You have just imagined luxury Tuscany hotel Borgo Santo Pietro, located in the hilltop town of Chiusdino.
If you are looking for luxury, comfort and elegance, look no further than Borgo Santo Pietro. The original 13th-century building has been transformed into a stylish antique-modern country retreat, set in 13 acres of divine gardens with stone fountains and cypress trees overlooking the Valle Serena.
In 2001 Danish Italophile Claus Thottrup and his wife Jeanette purchased 13th-century Borgo Santo Pietro as a ruined derelict villa filled with bats and converted it into an exquisitely smart destination. The house has been magnificently restored, maintaining the essence of the original building intact, while updating everything else elegantly. Borgo Santo Pietro is now a real Tuscan idyll. Jeanette Thottrup has put all her passion and exquisite taste into this sublime setting and searched antique markets all over Europe to create the magic of a Tuscan manor house. Jeanette did also the interiors for BSP's decadently luxurious 15 bedrooms, including 8 suites, with an attention to detail that you will not see in other hotels.
Facilities include a spa, housed in the old communal bakery, a swimming pool, a shaded gazebo with sofas, guest lounge, Wi-Fi internet, farmer's market, tennis, badminton and basketball courts and bocce pitch. Cooking, floristry, art and water color painting lessons are available and you can use mountain bikes and helmets for free.
Be sure to check out the wonderful package offers created by Borgo Santo Pietro, such as The Grand Easter Adventure, hot air ballooning in Tuscany, truffle hunting in Tuscany and more. See: Special Offers
There is no shortage of wonderful towns to explore, with Siena just 30 minutes away and Florence about an hour's drive, and nearby there are also the renowned vineyards of Chianti and Montalcino.
For much more visit: Luxury Hotel in Tuscany: Borgo Santo Pietro