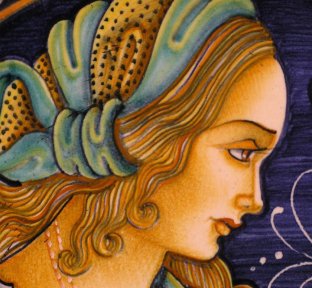 Two entrepreneurial Italian ladies, Tiziana and Manuela from Umbria, and the timeless charm of hand made Italian ceramics are the key characters of this success story.
Also, featuring an innate passion for craftsmanship, the kind of beauty that comes from solid traditions and a savvy use of Internet.
The story started in 2007, when the aforementioned ladies launched thatsArte.com, an online store showcasing the works of prominent craftsmen and artists from different Italian regions and offering an exclusive made-to-order from Italy.
Style, quality and the use of traditional techniques qualify thatsArte.com handmade dinnerware, luxury decoration accents, prized collectables, tiles, tile panels and keepsakes.
Every item featured is handmade by talented craftsmen and artists from Umbria (Deruta and Gubbio), Tuscany (Montelupo Fiorentino) and Sicily (Caltagirone and Messina).
Just like Italians have been doing for centuries, thatsArte.com customers enjoy the privilege of commissioning their favorite artists to produce unique ceramic pieces, made to measure interior design projects and personalized dinnerware sets.
Lusted after for their painstaking artistry and uncompromising quality, thatsArte.com Italian ceramics are cherished objects for lovers of all things beautiful and are a precious tomorrow's heirloom.