Bring a unique additional multi-functional source of light to any living space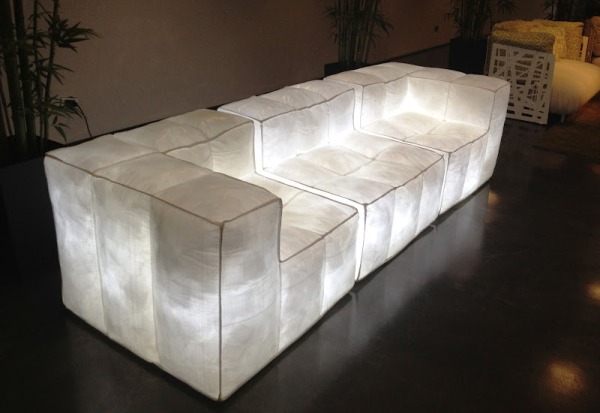 In the past we've shared some lighted furniture…such as the Nuvola di Luce chairs, and the Marco Stefanelli Brecce Collection of wood lights. Now we bring you the Via Lattea Collection created by internationally renowned architect and designer, Mario Bellini.
Created for Meritalia, the company states: "This is a project based on the pursuit of lightness and simplicity applied to the elastic balance between internal pressure and the dynamic loads of the body mediated by the form of the coverings. It is a project that goes against the general trend and is in constant evolution, based on the use of substances and materials that are alien to the traditional world of padded furniture."
Made of recycled material, the Via Lattea collection includes a series of sofas and simple seats filled with transparent bubbles of pure air and "sidereal light". Via Lattea offers comfort and mood lighting for indoor and outdoor spaces.
Everything about this collection is simple – from the materials used (recycled steel mesh and fibres from the packaging used to transport ingredients such as sugar or grain) to the design line. The cool glowing effect is the result of the colored LED lights placed inside. If you wish to bring a unique additional multi-functional source of light to your home, any piece of this collection could be one of the many possible solutions.
As for price, a Via Lattea three-piece sofa for instance, will cost you $7,800.