Revolutionizing the concept of residential illumination and interior design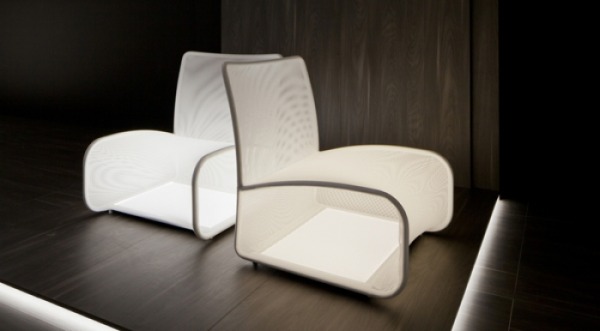 Do you crave unique home furnishings? Ever considered a dreamy yet sleek and modern lounge chair that softly glows to showcase its beautiful shape? Well, Studio Thesia Progetti has designed just that for Natevo. The fascinating furniture piece entitled Nuvola di Luce encourages you to dream and relax, even if you choose the version without the light fittings.
The low lounge chair gives off a diffuse glow captured in between its elastic mesh body stretched over a steel frame. Whenever you switch its lights on, the illuminating chair changes the atmosphere of the space it adorns, and its designers guarantee a long lasting life for their versatile design: "Light and easy to manage, this armchair comes alive with integrated light from a floor-level luminous panel; it has been tested 200,000 times."
Available in three colors – white, black and natural – Nuvola di Luce transcends into the world of lighting, creating an inspiring hybrid between lamp and chair.

All of the pieces of furniture in the Natevo range are available with a choice of warm or colder light.
The complete collection is available in the leading furniture stores in Italy and across the world, and in the Flou showrooms in Milan and New York.
Fore more info visit: www.natevo.com