Goes for considerably less than expected, but still towards great cause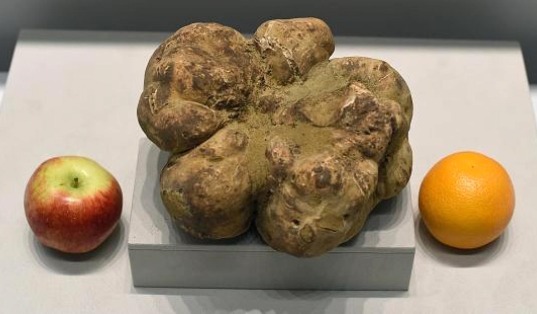 The record-setting 4.16-pound white truffle found by Sabatino Truffles in Umbria, Italy, has sold for $61,250 at a New York City auction.
Sotheby's says the fungus was sold Saturday to a food and wine lover from Taiwan bidding by phone.
The firm had said it turned down million-dollar offers from buyers in China. Instead, it chose to auction the truffle in New York to benefit Citymeals-on-Wheels and the Children's Glaucoma Foundation.
Sabatino Truffles spokeswoman Jane Walsh had said the truffle was slightly smaller than an American football. She says the average white truffle that's unearthed is about the size of a walnut.
Sotheby's says the previous largest white truffle ever found was 2.5 pounds.
White truffles, one of the most coveted and expensive delicacies in the world, are found only in certain areas of Italy from October through December. They grow wild in forests and are detected by specially trained dogs and experienced hunters. They vary in size and are valued for their flavor and aroma.