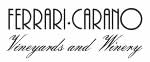 I am a big fan of Ferrari-Carano wines of Sonoma and Napa, California. So it is a real pleasure to have Ferrari-Carano Vineyards and Winery as a sponsor of Italia Living. If you want to feel like you're in Italy without leaving America, while enjoying some fabulous wines and hospitality, you must visit the Ferrari-Carano Vineyards and Winery. Also, enjoy the special benefits of joining the Ferrari-Carano Circle of Friends Wine Club.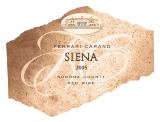 2005 Ferrari-Carano – SIENA ($22)- Blend: 80% Sangiovese, 16% Malbec, 4% Zinfandel.
A very good wine that pairs perfectly with a variety of dishes including pasta, pizza, and meats. Beautifully balanced and medium-bodied wine. SIENA has a wonderful nose of red and black berries, plus a little cinnamon and mocha. The palate is a mixture of cherry and raspberry jam with some butterscotch and mocha on the finish. Excellent red fruit vitality, good acidity, gentle tannins and a pleasant lingering finish. A great wine to keep on hand to go with almost anything.