(ANSA) – Treviso, December 31, 2009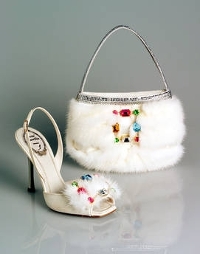 Italy's well-heeled fashionistas have been given the chance to continue indulging their passion despite the credit crunch, with the opening of the country's first-ever 'designer swapping store'.
The wealthy northern city of Treviso is now home to 'Luxury Swapping', where elite clients can trade in their Dolce and Gabbana dresses for Gucci shoes. "Our clients are people who enjoy luxury, and when they tire of a coat, a piece of jewelry or a rug, they want to give it away in exchange for something else," explained store owners Ilaria Bramezza and Francesca Ladisa. Bramezza and Ladisa have designed a system whereby they allocate each item brought in by clients a number of stars between 1 and 10. This can then be exchanged for one or more other items worth the same number of stars. The system is not without problems, however, local daily La Tribuna di Treviso reported on Thursday. Most clients tend to overvalue their own items and believe those they are acquiring are worth less than their marked 'price'. "But this is why we make it absolutely clear from the outset that the final decision on the 'price' classification is ours alone and not up for discussion," Ladisa said. The store owners take a commission on each successful swap, starting at 20 euros for a one-star piece. Unlike many Anglo-Saxon countries, where thrift and charity shops are hugely popular, the stigma attached to second-hand clothing has traditionally been a strong one in Italy.
But the trend for swap parties sweeping the US and the UK, where participants bring their unused items to trade with others, has recently caught on in Italy.
An online swap club was launched by Bologna-based fashion-lover Tamara Nocco in 2007, and now boasts over 500 members. This year, Nocco teamed up with Francesca Caprioli, founder of the Green-Think organization, in order to jointly organize ethical and sustainable events.
Their first Swap Party was staged in Rome and more are now taking place across the country, with left-over clothes donated to charity.
However, the Treviso store is the first initiative aimed specifically at the upper echelons of Italian society, where the second-hand taboo remains strong.
Recognizing this, the owners chose a small alleyway that is not obvious to anyone passing by.
"The fact it is a little hidden affords our clientele greater discretion," Bramezza explained to the Treviso daily. And despite this taboo, the three-storey business has enjoyed a thriving trade since opening. Ladisa and Bramezza are confident its popularity will grow further and have plans for a nationwide chain of stores, bringing luxury to struggling upper-class fashion fans across Italy.