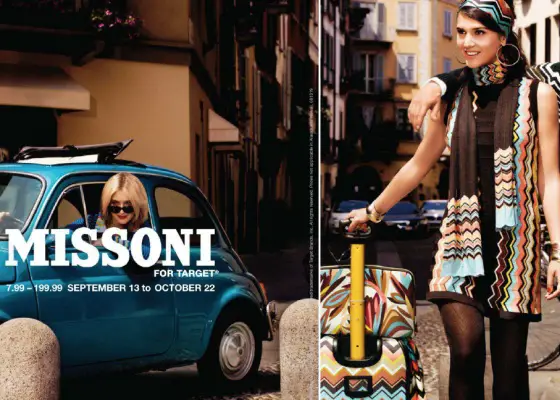 Missoni is an Italian fashion house based in Varese, famous for its unique knitwear, made from a variety of fabrics in colourful patterns. The company was founded by Ottavio ("Tai") and Rosita Missoni in 1953.
Aside from the Missoni apparel and fragrance lines, over the years the company has diversified into a variety of luxury goods sectors. In November 2005, Missoni and the Rezidor Hotel Group signed an agreement to create Hotel Missoni, a lifestyle hotel chain, with plans to have 30 hotels open or in development by 2012. As of March 2011, five properties have been confirmed.
In an effort to expand their brand in proving luxury wear doesn't need be expensive, Target is readying the launch of their Missoni's Fall Collection for a limited time, available September 13 through October 22.
The lookbook for the 400-piece range, which includes clothes for men, women, girls, and babies as well as dishwear, a blanket, and even a bike, comes courtesy of new Tumblr blog All The Way Up Here, written by model Marina, who also wears the clothes in the campaign. Having the spokesmodel cover a collection editorially is a cleaver way for Target to promote the launch.
Take a look at the Missoni for Target collection at http://allthewayuphere.tumblr.com.