by Jackelin J. Jarvis –

Jackelin is a Gemini who grew up in Springfield, Massachusetts, hometown of Dr. Suess.  She is passionate for ethnobiology, etymology, quantum physics, psychology of fairy tales,vintage cartoons,English literature,esoteric subjects and more.  She has been a devoted student of holistic "apocryphal cures", as she calls them–for decades.  Loving foreign lands, she set out to witness the crowned-heads of Europe with her broomstick.  After a decade in Italy, Jackelin still remains curious.  She translates and researches for the "Museum of the Ancient People of Lucania" (MAPL) in Italy and has recently registered a screenplay with Ron Becks entitled "Lucandora's Lock" whose plot is based on the esoteric medieval discoveries 2002-present.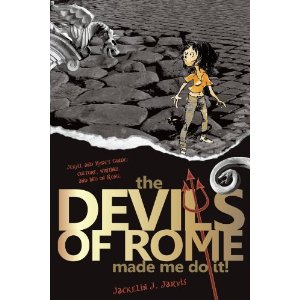 Jackelin has recently authored a book entitled, The Devils of Rome Made Me Do It! – A twilight zone treasure that will take any reader through a fascinating journey of Roman culture.  It is a collection of wisdom and life experience in the Roman name of the word, AMOR.  It may be the very staple to either replace or use along side your favorite Rome travel guide.  Come and learn about Rome the Jekyll way.
Available here from Amazon, Borders and Barnes & Noble
Read more about the book here:
Tour guide honors Roman cultural past
---
Visit Jackelin's website on the esoteric discoveries in Lucania Italy, including the authentic self-portrait of Leonardo da Vinci found in 2008 established as the only in the world.